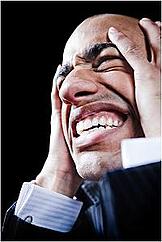 PC's are a wonderful tool which have made it possible for all of us to accomplish so much more than we ever could. As we provide IT Network support we find the problem however, is over time they also can lead to ongoing frustration as they seem to develop a mind of their own.
ITbusiness.ca recently published a great article "Answers to the top 21 most frustrating PC questions" which dealt with this phenomena. I'm not sure how they decided to rank these questions but the article certainly provides a useful set of tools and tips that might reduce a little of your own frustration levels.
Way to go Rick Broida for giving us these tips...we couldn't have created a better list ourselves.
What is your top frustration in using your PC? Have you got any tips you would like to share?
Lee K