With the growth of the number of combination colour mfp printers on the market and being deployed in businesses I think a lot of people are confused about what colour device fits what market.
Business Colour
The bulk of the products are defined to deliver business colour. So what does business colour mean?
My experience tells me that each person looking at colour output has their own idea of what is good colour. If you are buying a colour device you need to understand what you like, need and want in the colour output from that device. Will the defined colour be good enough as you grow into your device.
Business colour is usually seen to be the type of colour that is used in simple business proposals and reports. It includes charts and graphs, highlights and coloured headings.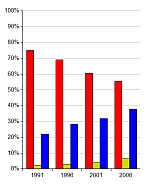 It does not include large photos, full page backgrounds, complicated gradients and all of the other finer colour tools which your publishing program can create.
So do you need these? That is a decision you need to make as you assess what device is right for your business. If your vendor is being honest with you at the time of sale they will be able to tell you whether the device you are considering is suitable for the need you are defining. They will ask you for samples of your desired output so you can see your work on their proposed product.
There are many levels of colour enabled mfp printer and you have to understand where your needs fit to make a best choice. The quality of colour output on all units today is much better than most units sold as recently as 3 or 4 years ago.
Graphic Colour
The technology and the volume of colour units being sold has improved your choices considerably. But you do need to understand that business colour is still focused on business presentation level output. If your needs lean to the higher quality focus which borders on graphic quality colour then you need to be more cautious in doing your homework. You also will need to plan on spending more than you would for a business colour device of similar speed and size.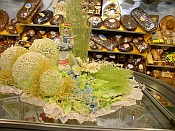 In the end being satisfied with a colour print device is all about finding the unit with the output capability that matches what you desire to produce. For most businesses I find that business colour is okay and they can still do the occasional higher quality output and be happy with the results. Setting your expectations upfront is very important otherwise you could find yourself wishing you had made another choice. Make sure your vendor knows what you expect and are looking for, before you start looking at prices.
What type of colour output do you expect from your mfp printer? Have you found any models of concern? What will you do differently next time you buy or lease?
Lee K
Images courtesy of Wikimedia