For a long time many offices were plagued by MFP toner pirates. These are the companies that telemarket to get unsuspecting people to order toner for their copiers, mfp's and printers without really knowing who they are dealing with.
This highly suspect practice was all the rage a few years ago but with the advent of digital devices and more complex systems they seemed to die off a little. Well, it seems they are back and it is really scary what people could unwittingly do.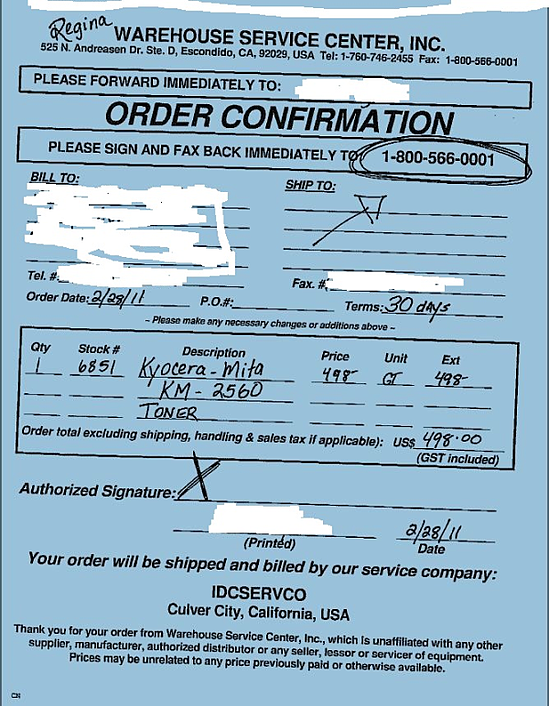 We got a call from the network administrator from one of our clients to check on the price for toner for one of their mfp printers that is in a branch office. We quoted the price. When we asked why he wanted the price he related how his administrator at the site had been solicited to buy toner at a "special" price for the device...the right model and right toner.
Here's the rub. The price quoted as special was almost 4 times the retail value of the toner needed. Of course there was no way to determine whether the toner was even OEM toner or reputable as they did not order or take delivery.
I have included a good sized image of the faxed order form that was sent to the administrator to approve for delivery...luckily they took action and saved themselves a lot of aggravation and unnecessary expense.
Why should you avoid toner pirates?
Usually their prices are not better and in this case are much worse than regular pricing.
You could be buying substandard product which could even damage your equipment
Are you sure you need to buy toner? What does your support contract say? You could be buying something which is already covered as part of your contract.
Your support agreement could be voided if you use improper toner in your device. Most vendor's agreements require specific approved toners for support to be valid.
I am pleased that our client new enough to make the enquiry before they got into an issue. Make sure that your administrative employees are aware of the terms on your support agreements for your mfp printers. The toner pirates count on getting an uninformed person on the phone, acquiring the needed information (authorized name, brand and model, etc.) so they can send an "authorized" order form. If someone is busy and not paying close attention they sign the form and you spend money you don't need to.
Have you been pirated? Do your people know how to deal with these types of enquiries? Add your stories to the comments below.
Lee K