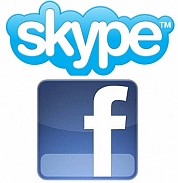 Consumer driven technology is changing rapidly and often ends up having an impact on how IT support and other business activities are delivered.
Three cases for this are the impact of the iPhone, the tablet computer (iPad) and the recent announcement by Facebook that they will offer video through Skype to all 750 million of their subscribers.
The iPhone is now well established in business.
Tablets are becoming more and more prevalent in business. The iPad was originally targeted at consumers butit and its competitors are more an more focused on business use. I recently received a great review of the Blackberry Playbook and where it might fit into a local Burlington business through the blog of SB Partners a local Accounting practice. Read the SB Playbook review here...
As for the impact of Facebook and Skype video, since the announcement is only a couple of days old we will have to wait and see. I can envision Facebook becoming a more important business tool with this addition...think about the means to have a direct one on one video conference with a client with only two clicks of a mouse button. There could be pressure on people in business to become more active in their Facebook use. More details of the announcement have been covered by an excellent blog post in the Hubspot Blog today. Visit the Hubspot Facebook Skype Video Blog here...
I am already thinking about ways that we could improve our client support and our ability to interact with our clients if we were to use the Facebook Video tool...not sure exactly how it will work out but I can envision some potential.
What consumer focused techologies have impacted your business? How does your company deal with the impacts of consumer technologies? How does your IT support team work with the pressures they create? Share your ideas below.
Facebook and Skype logos property of their respective companies.
Lee K