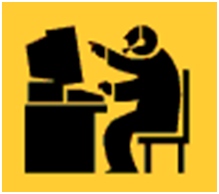 Our IT help desk get's many interesting questions each day as they provide IT support to clients. They deal with a wide range of users each with their own level of knowledge and ability to troubleshoot the operation of their IT systems.
My computer is slow.
One of the questions that gets asked is about their computer slowing down. Users complain that performance has degraded and they find their computer slow.
Here's the description of one such call from Kyle one of our technical team members:
"Today I had a client ask me about cookies and internet explorer toolbars. I explain to them that toolbars, although SOMETIMES offering good features, for the most part slow the browser down. I helped them remove the toolbars and they noticed the computer was much faster browsing. Toolbars not only have to be disabled in IE but also sometime from Add / Remove programs in control panel. "
So how do those toolbars get there in the first place. This relates to the way some clients manage their systems. Many of our clients are smaller businesses without onsite IT managers. The users have rights on their computers to be able to install software and utilities they need. Very often, you will find a simple dialogue box which has been pre-checked with the provision to install a "toolbar" as part of the install. These are not always bad as Kyle references, but the often can have impact on the performance of your computer.
Clean up old files
There are other steps which can be taken to improve performance as well. Things like deleting the Internet browsing history so that a large cache of old pages are not taking up space on your hard drive, clearing temporary files which get created and other general computer clean up will help.
Making sure that you do a simple reboot frequently has a big impact. We see clients who leave their computers running for weeks without a reboot and this can negatively affect performance.
Computers require maintenance and a regular program which cleans the system will help you retain top performance from your systems.
Do you have a scheduled maintenance process for your workstations? How do you solve performance issues?
Lee K