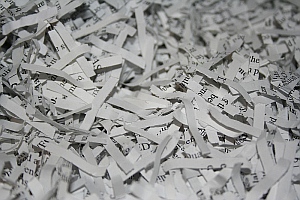 Shredding in Burlington ON seems to be a much more frequent issue for consumers. I find that the number of individuals, as opposed to businesses, that are inquiring about shredding services has increased substantially over past months.
I am not positive why but I think a lot of this trend is due to increasing reports of identity theft and the difficulties people have heard of when this occurs. Certainly, many more people are assembling documents and then getting them shred before throwing them out than in the past.
I think the second part of this trend is the poor performance of the little shredders that people buy in the box stores for personal use. If you have more than a couple of pages to shred using one of these devices is extremely frustrating. In the end it is easier to store up a box of paper and take it to a shredding service where you don't have to process the material yourself.
For a small fee, probably less than $20 the material is shredded, you are provided with a document declaring that the shredding has been completed and you can walk away feeling more secure about your information.
So what should you look for in a shredding service.
You should be confident the business has been around long enough and has a substantial presence so you can be comfortable with leaving them your documents.

They should be able to certify their work, in writing so you can reference this if needed.

They should be able to handle small jobs as well as large. You don't want to have to save up 5 or 10 boxes of material before they will handle your work.
Dealing with shredding for consumers as well as businesses is something which I see as a growing trend simply because the concern for security of information is growing as well.
What's your take? Would you pay to know your paper is shredded safely?
Lee K
Photo credit:  Wikimedia Commons