Going paperless (my definition is reducing your dependency on paper, not a totally paper free environment), in your office is a task that should be easy but is something that I have learned most people cannot do. I say most as I have clients who have successfully cleared their own offices of paper clutter and work with a virtually clean desk.
So how do you do this?
Step 1: Make a decision that being paperless is a worthwhile goal and you are going to make it a priority for your personal work. This is critical because the office will not go paperless if you personally do not do it.
Step 2: Tell everyone you interact with daily that you are taking these steps. Ask them to route material to you electronically as much as possible. Starting from electronic is much easier than converting paper.
Step 3: Get the right tools to work paperless. This means a proper monitor, or probably two so you can read effectively on screen. The bigger the better within reason. You also must have convenient and easily used scanning capability. This could be network scanning from a close by MFP device or it could be a smaller dedicated scanner on your desk.
Personal side note: I have been working for the past couple of weeks with a portable and small SnapScan personal scanner on my work station. (See photo of the real thing). I have found that by having it readily available that I can add documents directly to our Document Management System (runs in our hosted site docUcapture) as soon as I deal with them. This really changed the way I work and has made it much easier to keep things clean. Here's my scanner: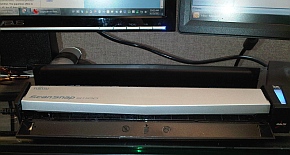 I also am a regular user of Evernote. I call this my pile and file tool. Instead of keeping a paper copy of things I want to reference informally, I put them into Evernote where I can easily access them electronically. It really helps to reduce the temptation to print a copy of something from the web, from a blog, from an e-mail that I want to be able to reference in the future. Try it out. I'm sure there are other products like One Note that could do this for you as well.

Step 4: You have to have someplace that is organized to put your electronic files. This should be a proper document management system designed to index and store records for long term storage, but it could be a folder system to start if that is all you can do. Don't count on the folder system for too long but it will get you started if you can't go all the way right off. Don't forget to have a place to store and manage e-mail records as well.
Step 5: Clean your desk everyday. You have to start the process and then stay at it until it becomes the habit. Once you get there you will find that it is much easier to file electronically and much easier to find things, but it only works if you do it constantly.
Step 6: Get rid of the paper. Buy a decent shredder and clear your paper everyday. If it is gone then you have to use the electronic records. Once you start to do this you will be happy you did.
Step 7: Once you are up to speed it is time to work on the rest of the office. Work the process through those departments where the most paper is generated first. The paperless office is really a series of departments which become paperless. Do AR, the AP, then HR, then customer service. Work on shipping and receiving. Give the sales department the tools to keep track of customers electronically, including written notes and records.
Step 8: Refine, refine, refine. Trying to build a successful paperless office system all at once and without modification will be a fruitless and difficult task. It is guaranteed to fail. Doing this as an iterative process with regular modification will pay big rewards.
Take step 1 making it a personal goal today. Let's see who gets paperless first. You or me!
Have you tried going paperless in your office? How did you accomplish it? Why do people love their paper? Your turn. Tell us how you did it below!
Lee K