There are hundreds of document management software packages available. Deciding which is the right one for your business can be a challenge. Sentryfile document management is a package which has been well tested in the market as it has been used in many varied businesses for well over a half a dozen years. The latest version of the software, version 5.17 is an incremental upgrade built upon a major revision about four years ago.
Using Microsoft server platforms as its basic operating system the Sentryfile package builds a simple to use and easy to manage interface on the basic underlying server software. Using the built in IIS web platform means that the software can be easily deployed and maintained while providing a very robust performance.
Of course how it is written and what it runs on is only part of the story. The most important piece is how does it work.
Sentryfile uses a fairly simple design strategy which stores files in 'Cabinets'. Each Cabinet is a unique index structure which permits security of the documents within that section. User permissions to a Cabinet determine what and who can see any documents. Individual or group permissions determine what a user may do with a document once they retrieve it from the document store...view it only, e-mail it, save it to their PC, check it out for revision and check back in, or other specific functions. All of these parameters are controlled through the administrative logins and make it easy to control security for records in a Cabinet.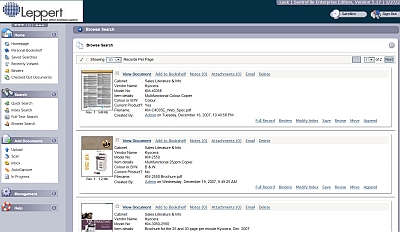 Sentryfile comes in three package sizes and can be scaled to meet almost any size of document storage requirement. The entry cost for a very solid and refined product is not high by document management standards and even the Enterprise version does not command a sticker price that would shock people around the water cooler.
One of the key features of Sentryfile is its licensing model. Most document management software uses a seat based or a concurrent seat based license model. This means you must pay for the base software and then also pay for seats for the users. With concurrent seat models you only have to pay for the number of seats that are required for the maximum number of users who will connect at any one time.
Sentryfile provides a better model whereby you buy a server license for the software depending upon the level of features you want (there are three levels) and you then have an unlimited license for users. This means that the only limitation for users is the horsepower of the server the software is used on. This pricing model substantially reduces the entry cost and permits occasional users to have full access to the system when they need it.
There is much more to know and see with Sentryfile but this profile outlines some of the key pieces...a fully functioning, scalable, web based document management system with unlimited user licensing. Worth a look if you are tired of dealing with paper files and want a robust electronic document management system.
Are you still storing paper? Have you considered document management? Is a paperless office something you could strive for?
Lee K