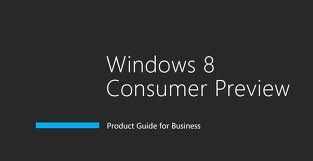 This week Microsoft released a Consumer Preview for Windows 8, the new operating system which is slated for general use later this year. There is major interest in this release as it changes fundamentally the way users will interface with their applications as the model used more closely follows that used on mobile devices like cell phones and tablets.
Whether Windows 8 will succeed will depend upon its performance and how people react to this new format. it is interesting to note that in the business market most companies have not fully adopted Windows 7 Pro as their desktop of choice, even though most IT managers rate it as a better OS than XP. The inertia around XP and the difficulty of moving from that base to Windows 7 may actually work in Microsoft's favour as users may be ready to take up the new OS and bypass 7 completely. My experience has been that most migrations to Windows 7 have come with new hardware purchases rather than by mass deployment of an upgrade from XP.
Here are three recent media articles with the authors' take on the new OS.
It will be interesting to watch the reaction to this new OS. The Windows desktop OS is a pervasive part of the everyday computing environment for most workers. When major change occurs it can be a challenge for users, IT professionals, and business owners. The months ahead as we move to full release are going to be interesting.
Have you looked at Windows 8 Consumer Release? Any thoughts of trying it out? If so what are your impressions?
Lee K
Photo credit:   Windows 8 beta.com