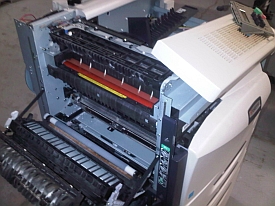 A question one of my account representatives has been running into lately. Why do I need to pay for a support plan with an mfp printer?
To be fair many of the clients who ask this question are smaller businesses who are concerned about the apparent cost of support and when they moving up from using a small quasy consumer focused box store mfp. They ran that small unit for two or three years without a support plan, why do they need one for the new more robust, bigger unit? Seems logical until you think it through fully.
First. One of the reasons to move to the larger, business focused device is to acquire more reliability, lower operating costs and greater functionality.

Second. The new device will usually be networked providing connected capability to multiple people in the office. If it goes off line for any reason many people are affected by the interruption and waiting for a service response is not productive.

Third. The more complex the device the more it depends upon software to operate. The operating software in mfp printers is called firmware. It commonly gets revised to incorporate improvements gained by field operating experience. Think of doing Windows updates on your computer. Necessary and needed. The same is true for your mfp printer. Unfortunately, doing firmware updates takes special knowledge and access to the updates from the manufacturer...not something for end users to try.

Fourth. Paper jams. MFP printers are mechanical devices with many paper paths and complex internal mechanisms. Generally they operate without issue but at some point you are going to get a jam you cannot clear. A support call will be necessary to avoid damage to the machine.

Fifth. Support contracts provide priority service and preventative maintenance. If you decide to forgo a contract or go with time and material coverage, you are responsible to make sure that the device is regularly checked, cleaned, firmware corrected, software monitored and components replaced on support schedules. If you call for service and you have not done anything to the device between calls your support vendor will have a harder time (and usually take more time with the call) bringing the device back up to standard in order to clear your issue.

Sixth. Manufacturer warranties are not support contracts. Most mfp printers come with an end user manufacturer warranty, however they are usually short duration and highly restricted to DEFECTIVE manufacturing or parts. This does not cover clearing paper jams, diagnosing image quality, dealing with poor registration, resolving small sqeaks or noises or helping the end user understand how to use all of the many features on the unit.

Seven. Manufacturer warranties assume that a trained technical resource will be supporting the device. MFP printers are not simple laser devices. They support a large range of additional capabilies which require specialized knowledge and access to manufacturer supplied support knowledge bases. Depending upon the manufacturer warranty to ensure your investment in a device will bring you value can be risky...and it does not matter who the manufacturer is.

Eight. Substantial loss of productivity and user value. The number of people affected when a full blown networked mfp printer or copier is offline is substantial in most offices. For small ones it may be 5 people. In larger installs it could be 20 or 30 people per device. If the tool which has been provided for printing, copying, faxing, scanning, document storage, collating, stapling, three hole punching and even booklet production is off line it is easy to see that the loss of productive value for this large group of people can be substantial. The small 'click' charge per page is easily covered with fast, effective and efficient support response making sure payroll is used effectively.

Nine. Insurance is another big piece of the support plan. You acquire a substantial piece of hardware and its related software tools to bring value to your operation. That device is a costly unit with many computer boards and components. All of these are 'insured' by the comprehensive support plan offered by your vendor. In addition in most cases you receive consumables such as toner as part of the plan. Couple this with priority response in hours not days and you can see how the insurance component of the plan is valuable to you.

Ten. Lease protection. We recently had a client who had an mfp that they were planning to return at the end of a lease. They had opted not to buy a support plan and used time and materials to get repairs. Naturally this became a disincentive for them to call in the resources and they left a number of components of the device unrepaired as it was getting 'old' and would soon be replaced. When the time came to end the lease they found out they were facing a $1800 charge to bring the unit up to standard to be able to return to the leasing company without penalty. In the end they paid a bit less and bought the unit out of the lease and did not do the repairs. What did they save by not looking after the device well during the time they used it? I suggest not much.
There are many more reasons why users want and need comprehensive support coverage. These ten highlight some of the main ones and the issues that lack of support can bring.
As the old oil filter TV ad used to say, you can pay me a little now or pay me a lot later. The choice is yours.
Do you buy comprehensive support with your MFP purchase or lease? What are the key features you look for in support?
Share your thoughts below....
Lee K