Most offices have a place to use a scanner in their operation. There are many types of scanners that you can consider. The decision on the right type of scanner for your office depends upon several key use factors.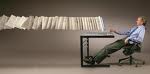 Volume: How much paper will you need to capture? This has a major impact on the choice you make. Small, desktop units or small Soho targeted multifunction printers can work if you only do a few pages per day. As your volume goes up then bigger and more robust scanner design is needed.

Type of Paper: The type of paper you scan will have a big impact on your scanner choice. is it nice clean letter sized paper? Is it highly handled, crinkled, and ripped (often a problem with delivery slips)? This could mean a need for a flatbed option on your scanner.

Size of Paper: Letter and legal sized papers are easy. Large sized get more challenging. Ledger will work with most mfp's and many scanners but if you need 12 x 18 or longer sizes (sometimes needed in specialized areas like oil and gas) you have to check the spec on the scanner carefully. Some scanners handle mixed sizes very well. Most mfp based scanning systems do not. You need to know if you will be needing the variety this demands. I have a client doing an Accounts Payable application and their paper ranges from cash register receipts to 9 x 12 tractor fed delivery slips. Their scanner has to be very flexible to handle their 6500 plus pages per day.

Quality of document: Some documents have background images and and shaded areas which make the scans larger and harder to work with. There are specialized software packages that work with many scanners which can reduce the impact of these kinds of 'dirty' documents improving the output and process.

File format of output: Most workgroup scanners default to producing TIFF images. Using software it is possible to produce PDF output as well. Some versions of smaller scanners, especially the ScanSnap series from Fujitsu only output PDF format images. This is not a problem for most of the use they are intended for but if your document management software requires TIFF output or if you are going to use OCR software on the images then PDf may not be the best output to have.

Choice of Document Management Solution: Today's scanners are generally compatible with any document management solution you may wish to deploy. There may be some advantages with one brand or model based upon specialized needs but in most cases it will be the capture software and the related handling software you choose that will dictate the process design. This is a place where your reseller can be of significant help since all solutions do not fit every situation.

Advanced features: As the sophistication of the scanner goes up so do the features which make it productive and easy to use. Auto double feed detection, double sided scanning, ability to capture and output both mono and colour images at one time, auto page size detection and cropping, image enhancement, auto orientation, deskewing are just some of the productivity tools that come with higher end (and a few mid level) devices. Knowing which are of value for your proposed appication is critical.

Network scanning: With the advent of network enabled scanning through mfp devices many scanning applications are designed for output to be 'pushed' through the network to a workstation or file location. Stand alone scanners were designed to be connected to one workstation and to 'pull' the scanned images into the workstation. Both of these routing methods have their advantages depending upon your intended use. There are now network enabled scanners available from several vendors, Fujitsu and Kodak being two, that permit a dedicated scan station to be used without a computer or mfp to process scans into a network. Knowing whether this is a need or desired process is important when making your scan choice.

Support: Scanners are electrical/mechanical devices requiring regular cleaning and maintenance. There are some parts (rollers and pressure pads) which end users can maintain. Electrical boards and internal components require trained support. The cost of this support varies by device and should be part of your decision matrix. Not having it is a false saving.
As businesses produce and operate with more electronic files and documents the need for scanning increases. The ability to consolidate electronic and paper records into one system is facilitated by having solid scanning capability which is easy to use. Deciding which is the right tool for your operation will help you move to a 'less paper' office that is more environmentally friendly and easy to manage.
Have you looked at scanners? What do you use to scan now? How has it changed your operation?
Share your thoughts below....
Lee K