Anyone in Ontario that has recently purchased a TV, computer, monitor or printer knows that they are being asked to pay a fee for eWaste the new recycling program introduced last year.
Like many, I wondered if this program was actually accomplishing what it was supposed to and removing e debris from land fills and stopping it from being shipped overseas and adding to pollution there. Our recent experience with our own eWaste colleague convinces me it is a potential success.
A few months ago we rented a portion of our warehouse to a company called Niagara eWaste and its owner Ryan Dear. To see what comes through his processing operation is an enlightening experience. Here's one day's processing...that overflowed into the parking lot waiting for the pick up to the final processing plant. Other parts of the flow are dismantled to smaller components and processed in more refined ways.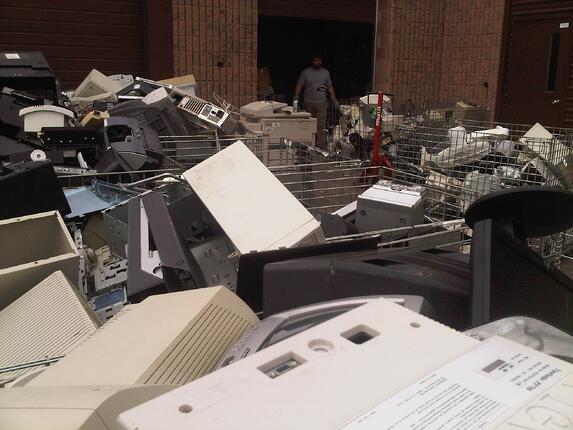 There is everything in computer, consumer electronics, industrial controls, printers, copiers and myriad other electronic devices which has gone through Niagara eWaste's hands. When I see the volume and types of materials that are cycled through our warehouse it makes me think that the $33 that gets added into every floor standing mfp sale in Ontario is pretty good value for the dollars. Ryan has found so many unusual items he even takes pictures and collects his waste products of the week.
Just think, a few short months ago almost all of this stuff went into land fills all over the province. Today the circuit boards are being captured so they can be reprocessed to get the gold from the contacts (at $1600 an ounce). The wire is being reprocessed to capture the copper. The glass is being reprocessed for post processing use. The plastics are being sorted and ground for reuse. The ferrous metals are recycled and fed back into the steel making process and other special metals are captured for reuse.
Congratulations to our colleagues at Niagara eWaste on helping us all handle the environment better. They are just one of many organizations who are working with the Ontario program. To the many others who have built businesses to work with the Ontario eWaste program keep up the good work. To everyone who pays the small eWaste fees when they purchase electronic devices...your contribution is paying off in new industrial activity, regeneration and less landfilling. A win, win, win for all.
Have you watched what is happening with eWaste? How do you dispose of your electronics? Does your office supplier support e-recycling?
Lee K
Save paper...store your files electronically...see how easy it is in this 3 minute demo