Microsoft's latest operating system is now available for presale. Windows 8 is touted by MS as the biggest launch they have done and there are several features of the OS which make it interesting to watch. It has a new look and feel when compared to any previous MS OS. If you want to really understand how important this is to Microsoft, look at their new logo which was just recently launched. Compare the new logo logo to the Windows 8 logo and a screen shot of the new interface.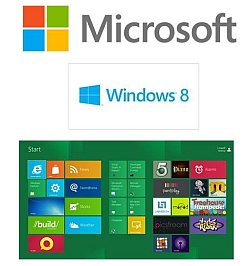 One of the key features is the mobile version of Windows 8 will have a similar interface to the desktop version and in some opinions the mobile version is seen as the real reason for the release.
New hardware choices
Hardware manufacturers are now able to promote their Windows 8 capable products with actual delivery in Canada being slated for October 26th. I was reading a notice from one of our distributors this morning that has specific reseller embargo requirements and one of those is if we have product for shipment to end users it must be shipped with an explicit instruction not to be delivered prior to October 26th, and shipping cannot commence before October 23rd.
This gives an indication of how closely Microsoft is managing this launch.
So what about Windows 8? Is it going to be a hit and the operating system to have, or will it be an also ran like so many others?
Here's a link to Windows 8: ultimate guide to Microsoft's big OS release, published by itbusiness.ca . It is designed to be bookmarked so you can get regular updates as more is released about the new OS.
The hardware manufacturers are using this release to introduce a wide variety of new form factors for computers. There will be desktops of all kinds and sizes. There are true tablets. There are tablets with attachable keyboards and other peripherals making then netbook type tools. There are ultrabooks, super lightweight small form factor laptops. There are laptops of all shapes and sizes.
New software
Of course there will be apps of all kinds which will be released to fit with the new features of the new OS...most obviously the larger 'tiles' used for launching programs (apps) which replace the small icons we have been so familiar with in previous Windows OSs.
The retail package of Windows 8 is available from retailers and online stores for order now with delivery on launch date. Published price is $69.99 USD. If you wait till launch day you will be able to download an upgrade for $39.99 USD from Windows.com .
Of course knowing whether you should upgrade will be a challenge. Perhaps if you are looking at a new smartphone that will use the Windows 8 smartphone OS and a tablet which is to run Windows 8, upgrading your desktop to the same look and feel could be beneficial. There will be lot's of commentary about the merits and perils of upgrading over the next few weeks.
Whether the new Windows will get traction beyond those who are buying new hardware is hard to tell. With Windows 7 which was launched three years ago much of the adoption came with new hardware being deployed. In the IT network space we see many companies only now starting their migration strategy from XP...an old OS by all counts these days. How many of these will make a move right past Windows 7 to an OS that has a substantially different paradym is hard to predict. Early reports of how stable and buggy the system is will have a big impact on this choice.
Mobile apps grow in influence
The shift in computing to a mobile focused environment is being underlined by this new release. Recent data has shown that for many users their mobile platform, smartphone or tablet is the primary tool for much of their online and computing work. Desktops are starting to migrate to the background of the market focus and the impact of this movement is shown in the way software and OS design is delivered. Quick, easy to use and easy to install mini software packages (apps) doing a few focused and specific tasks are starting to become more valuable and dominant in computing. The thousands that have been developed for the MAC and Android mobile platforms are now going to be joined by thousands more that will be developed for the Windows 8 platform. Their funtionality will need to be transparent across the delivery methods.
I will be interested to see how successful Microsoft can be with catching this movement and bringing it together on the three basic platforms.
If you want to have a guided tour of the new screen here it is.
Have you checked out Windows 8? Are you preordering? Will it make the grade?
Weigh in with your thoughts below.....
Lee K
Photo Credit: Composite of Microsoft Logos copyrighted by Microsoft and Screenshot courtesy of howtogeek.com