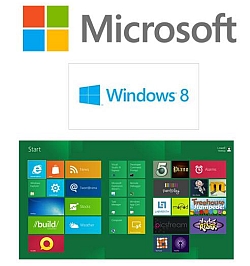 Windows 8 hits the store shelves today and it is an important day for Microsoft and for all of us who use desktop computers, laptops, smart phones, tablets etc.
The new OS is a very distinct departure from past Windows versions primarily because Microsoft has decided to try to link the functionalities needed for mobile use with those needed on the desktop. This has meant a shift to bigger 'tiles' instead of icons and the normal start menu since using a finger to navigate requires larger and easier contacts than when a mouse is the primary tool.
So does this make the desktop app less valuable? This is something users are going to decide but given he low upgrade price, coming all the way from XP you can upgrade for only $39 to Windows 8, it may not be a problem. Also, a back door 'desktop' has been included which permits you to operate your desktop in the more familiar Windows 7 look and use Windows 7 compatible software. This is a great idea since some people will not want to jump whole hog into the new interface right away.
An comprehensive review with of the new interface has been released today by PC Mag and you can get more details of their assessment by reading the article. Our technical team has been working with the early versions for a few months and have found it fast and they like it better than Windows 7.
Lower Upgrade Cost
One thing that I can see with the new interface is the potential for business users who have stayed with the venerable XP OS jumping right to Windows 8 due to the lower upgrade price. At only $39.99 for the Pro version which permits connecting to domains. This is an absolute bargain for companies that have been looking to upgrade from XP and facing a much higher price to go to Windows 7. Add to this the ability to run any compatible program on any hardware that is Windows 7 capable and you have a real potential for a win. Finally, Windows 8 seems to run faster and start up faster than Windows 7 ever has...and it was a real gain over XP. If you have been stuck on XP then a move to Windows 8 could be in store.
Whether Microsoft's gamble will pay off will only be told by the market in the coming weeks and months but the company has to be congratulated for taking a bold step and offering the new OS at a very comfortable price point. They are responding to the market which has shifted towards mobile use and much lower price points for apps and programs.
Have you checked out Windows 8? Is an upgrade in store for your computer? Will you wait to see what happens or jump now?
Share your story below....
Lee K
Photo Credit:  Microsoft.  Microsoft Logo, Windows 8 Logo trademarks of Microsoft Corporation