Kyle L, one of our technical people has been an early adopter of Windows 8 and has been running it on one of his desktop computers for several months since he has access to the early releases designed for technical users to get familiar with new OS designs.
This blog features Kyle's impressions and what he has liked and what he has not liked about the new OS.
Thoughts on Windows 8

A new version of Windows has always excited me. Loading the newest version and getting my computer freshly formatted is always a welcome experiment. Being a modern technical power user the GUI that my daily work is done on has a big impact on my productivity. If I like the way the interface looks and feels it's likely I'll be more productive.
This brings me back to Windows 8 and the look of the interface. As we have come to expect with the Windows interface it looks better than last - Windows 7. Normally with a new Windows operating system there are seemingly few "back-end" changes and many visual changes to the layout of the GUI.
Windows 8 has been slightly different than the normal in this sense because most of its changes are to the back end of the operating system, changes to the interface use as a whole. Of course this is in reference to the ability to run on tablet computers and mobile phones. The big hurdle here is touch or "haptic" interface control. Just because something works great with a mouse and keyboard does not mean that it will work great on a touchscreen tablet.
Facilitating this change to a tablet and haptic interface has brought the need for great compromise. The desktop experience has been impacted in many ways. Some of them innovative, some of them negative.
I will highlight a few specific areas of concern but overall, I must stress to Microsoft that the average desktop user is not going to toss their keyboard, mouse and monitor in the garbage and adopt a tablet. For ergonomic reasons I feel we will find a stationary and dedicated computing station to be the most productive in the home and workplace for quite some time to come.

Windows file transfers - they have been revamped in both form of the GUI and backend framework. Selecting between file versions and choosing the files you want to copy or move is easier. When moving many files the operation is significantly faster due in part to correct prioritizing of small file movements, etc.


Windows Startup Behavior - When you first start Windows 8 you are presented with the "Start Menu" a now fullscreen GUI that takes over the entire screen of your primary monitor. You must click (or touch) the Desktop icon if you wish to have your desktop back with icons. This, as a desktop PC user is very annoying and unnecessary. A simple solution would be to provide an option where one could set the desktop as a startup item or something like that. This would allow the desktop to auto load.

Default Icons - All of the default icons that you might expect are not shown on the desktop anymore. You must select Personalize, and then click (or touch) on Change Desktop Icons and select the icons you want shown. This is not a big problem - for a power user - but an office worker who just got used to the vast changes from Windows XP to Windows 7 may have difficulty finding these settings. Why make people jump thru hoops - everyone knows and likes their My Computer, Network and User Folder icons by default.

Another thing I would like to touch on is the default programs used for opening files such as images. Whereas Windows Picture and Fax Viewer was used before, "Photos" is now launched. A fullscreen picture viewer app clearly intended for tablet use. I should add that it is nearly impossible to exit with a mouse and keyboard. These fullscreen tablet apps are an annoyance for the desktop user.

Windows Task Manager - the task manager has been revamped and looks fantastic. You can find out much more system information and added detail with less bother. This is an area where they have done a fantastic job. The ability to edit services, startup items, view processes and applications all in a great detail in a compact GUI is fantastic.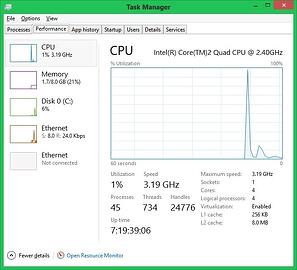 Conclusions
Overall Windows 8 is pretty good; it will be really neat to run full-blown Windows on a mobile phone I'd imagine. But I feel like my desktop computing experience has had more negative changes than positive ones.
I'm not going to revert back to Windows 7 but I'm not excited to upgrade any other computers I own to Windows 8.
Would I recommend it for a client using a desktop? No.
This operating system represents a shift from Microsoft into other markets.
Kyle L
So that's a summary of a technical person's working use of Windows 8, as he sees it, having used it daily for several months. It may not be what Microsoft hoped would be the result, on the other hand Microsoft has clearly skewed this introduction to the mobile platforms which have been so much a growth factor in the past couple of years.

What's your take on Windows 8? Do you Care? Will it affect your choice of computer or software?
Your thoughts are welcome below....