Microsoft has announced that it is building a new data centre which will be off the grid and run entirely on power generated from waste.
I can remember when the City of Hamilton erected a biogas collection dome along side the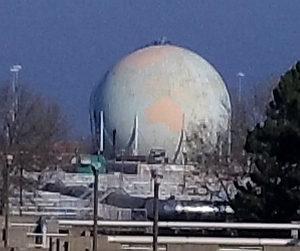 QEW (main highway between Toronto and Niagara Falls/Buffalo) and then painted the dome as a world globe. This was over 40 years ago so the concept of capturing biogas for the creation of energy is not new. What is new is the concept of building a complete data centre which will only be powered using biogas generated power.
We all know that data centres can be power hungry beasts so designing to support cloud services and to do so completely off the grid is an exciting possibility. Microsoft clearly sees this as an R&D project although it will be used for actual cloud services for clients.
Details of the Cheyenne Wyoming installation are described in the Microsoft Global Foundations Blog.
I think this is a really interesting conjunction of technology which has existed for decades being applied to a current technology delivery being adapted to the latest trend in computing. The innovations that Microsoft will deploy in this facility include the recapture of heat from the data centre as well as the biogas use for power creation.
In additon, using this type of power generation to supply a mission critical application like a cloud data centre is a challenge that is worth commending. Since the output of the data centre must be continuous and not be subject to power fluctuations the engineering required is a challenge I would think.
It will be really interesting to see how the challenges are met. The Microsoft article describes some of the ways they will do this and why the location of the data centre adjacent to the waste water treatment facility that is the source of the biogas is a natural fit.
I think Microsoft is to be congratulated for using their R&D capability to see how to address carbon footprint issues and to do so in a commercially focused installation.
What do you think? Sound viable? Would you be more disposed to a biogas powered data centre to have your applications running?
Your thoughts are welcomed...
Lee K