In my recent reading and learning exercise I noticed two very interesting trends. Print volumes are on the decline while the growth of LED screen production is accelerating.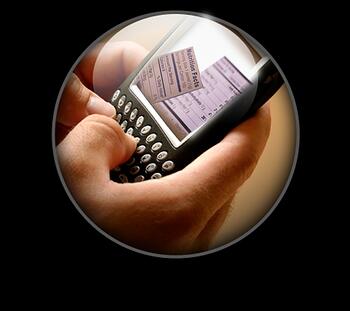 Print continues to decline
In a webinar yesterday the Photizo group presented part of an analysis they have done looking at the potential for print vendor Lexmark to reposition itself into other markets. As part of the background they showed the following image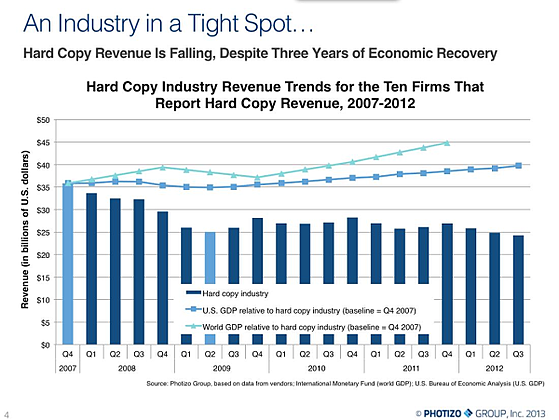 The description of this graphic included that both the US and the world GDP have strengthened since 2009 but the print revenues have continued to decline. Whether this trend will reverse itself as the economies grow further is something that no one knows but it seems that it may not.
This certainly underlines something I have learned over the past few years and that is print volumes are now basically stable or lower while purchasers are looking for ways to leverage their investments in print devices (mainly in multifunction printers or mfps) to do other things like scanning, electronic filing or email distribution. Managed print services have assisted in growing this trend as vendors have focused more on the software that goes with their print hardware devices.
As one of our clients says, "You've taken the headache out of our printing for us. With your help, we've optimized our print environment to the point that our costs and volumes are driven by our business volume." Only if their business grows substantially or they expand their operations to additional sites will their print volume grow from where it is now. Many businesses are starting to look at these issues and are seeing similar results with a managed process.
Contrast this with electronic screens
A recent article in itbusiness.ca headlined, Samsung hits OLED screen milestone illustrates one of the reasons why print is declining. This article talks about Samsung having produced its 300 millionth OLED (Organic Light Emitting Diode) panel since first starting production in 2007.
What is important is the accelerating pace of this production. It took four and a half years to do the first 100 million, eleven months for the next 100 million and only seven months for the final 100 million. Contrast this with the decline in print revenues from 2007 to 2012. Of course the graph for print talks about revenues which is not exactly a match for volume but it does show the same trend.
Is there a cause and effect to this contrast? I am not sure you can equate them directly but certainly the ease at which we can now get access to information using portable screens (smart phones, tablets & digital cameras), internet connections and even large display screens for advertising, point of sale information, menus and promotions is having an impact.
When you can electronically store a link to a website, a copy of a document using cloud storage or a photo of your grandchild there is much less need to print off a copy for transport or reference. I think these relatively new tools (iPhones are only about 5 years old) permit many users to avoid creating paper which they may have done in the past.
What do you think? Is the decline in paper a direct result of more screens and a more mobile world? Or are people finally just getting tired of carrying it around?
Share your thoughts below..
Lee K
Graphic Credit: The Photizo Group