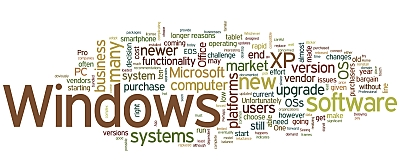 Recent data on desktop operating system (OS) market share indicates that Windows XP still has almost 39% of the market. Windows 7 is at almost 45% with Windows Vista and Windows 8 at 3.17% making up the balance of the Windows PC market.
For many users who are familiar with XP and are not experiencing significant problems remaining on this over ten year old platform is just fine. The difficulty is coming in 12 months however as Microsoft has announced end of services (EOS) for both XP and Office 2003 effective April 2014.
What this means is that businesses who are concerned about security of their network, non-security hot fixes and any support on issues will no longer be able to count on Microsoft to assist. There also will no longer be online technical updates from Microsoft for this EOS platforms.
What is complicating the issue for many companies is the decision on whether they upgrade to Windows 7 or go to Windows 8 given the issues that are well documented about its interface when used in a non touch screen environment. It is a challenge today to purchase new computers which come with Windows 7 pre loaded, although it is still possible to 'down' license from Windows 8 to Windows 7.
Unfortunately, the need to eventually make the upgrade from XP and Office 2003 is a given. Newer functionality in newer software will be limited under XP if it will even run. Delaying the move to a newer operating system is not a good business decision, however you will get conflicting recommendations on which of the two newer systems, Windows 7 or Windows 8 you should choose. When buying a new device you are forced to make a decision on your new OS or pay substantial cost to have XP installed using an existing license. Not a promising potential for a ten plus year old software.
Whichever you choose you must be careful to get the right version of the new OS. You need the Pro versions of both newer Windows OSs to be able to connect your computer to a domain and this is a problem that many unwitting purchasers only find out after they have made a purchase.
Seeing a bargain advertised purchasers pick up that shiny new computer with Windows 7 or Windows 8 not realizing that one of the reasons it has a great sticker price is that it comes bundled with the Home version of either software. They then head to the office and find out that they have to wipe the OS,purchase and pay to have the Pro or Professional version installed. In the end their bargain PC turns out to be more costly than if they had purchased the right version in the first place. This is a very common occurance with laptops.
One of the reasons many business organizations are slower to adopt the newer OSs is the delays and often reluctance of legacy software vendors to upgrade their software for the new platforms. This happens with specialty software and with line of business software packages which are designed for specific industries.
If your vendor for this type of software has made no effort to build a new version compatible at least with Windows 7 then that might be a signal for you to start looking around for a new vendor with product that can replace your current choice. Unfortunately, OS systems are starting to last for very short time frames, often with updated versions being released annually and having a primary line of business vendor that does not make the effort to try to stay current can lead you to be boxed in without really knowing it.
One of the drivers that has pushed this situation forward is the rapid developments in the App market for tablet and smartphone systems. Since the low cost and rapid development cycles of many Apps is starting to teach users that they should expect enhanced functionality frequently and without having to do a complete reinstall computer OS vendors are being forced to start thinking the same way. It is going to be interesting to see if they can do so, since typical computer OSs are much more complex than tablet or smartphone systems.
In the end computing systems are tools and the functionality they provide is the ultimate test that users are going to demand. If that can be replaced on other platforms with more ease, then the PC format may be seen as less desireable.
Encouraging users to upgrade from ten plus year old platforms has obviously been a challenge for Microsoft in recent years. Perhaps the model of major changes, new paradygms and high costs of migration have run their lifecycle and smaller, incremental low cost frequent changes may be the coming solution.
Are you still XP dependent? Have you considered the latest Windows 8 and Office upgrades?
Lee K