One common IT related scam that often flies under the radar is the domain registration scam. In this situation a notification gets sent to a registered owner of a website domain address from some official looking email address such as
From: Domain Services <notice@domainnotices6745.com>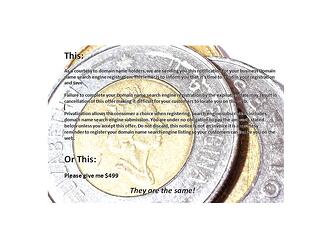 The message received will include some reference to a site and domain that you control:
Subject: Domain Notification: XXXXXXXXXX This is your Final Notice of Domain Listing - XXXXXXXX .NET
Attention: Important Notice , DOMAIN SERVICE NOTICE Domain Name: XXXXXXXXX.NET
Complete and return by fax to:
1-Some Number You will not recognize
There will then usually show some sort administrative reference to your company and a match to some person within your office who may be listed as the admin reference from the master domain registration site.
And then the real operative part of the notification which constitutes this scam starts to show up:
"Please ensure that your contact information is correct or make the necessary changes above
Requested Reply
JANUARY 12,2015
PART I: REVIEW SOLICITATION
Attn: (YOUR COMPANY NAME WILL SHOW UP HERE)
As a courtesy to domain name holders, we are sending you this notification for your business Domain name search engine registration. This letter is to inform you that it's time to send in your registration and save.
Failure to complete your Domain name search engine registration by the expiration date may result in cancellation of this offer making it difficult for your customers to locate you on the web.
Privatization allows the consumer a choice when registering. Search engine subscription includes domain name search engine submission. You are under no obligation to pay the amounts stated below unless you accept this offer. Do not discard, this notice is not an invoice it is a courtesy reminder to register your domain name search engine listing so your customers can locate you on the web.
This Notice for: WWW.XXXXXXXX.NET will expire on JANUARY 12,2015 Act today!
Select Term:
[ ] 1 year 01/12/2015 - 01/12/2016 $75.00 [ ] 2 year 01/12/2015 - 01/12/2017 $119.00 [ ] 5 year 01/12/2015 - 01/12/2020 $199.05 [ ] 10 year -Most Recommended- 01/12/2015 - 01/12/2025 $295.00 [ ] Lifetime (NEW!) Limited time offer - Best value! Lifetime $499.00
Today's Date: _____________________ Signature: _____________________
Payment by Credit Card
Select the term above, then return by fax: 1-The Reference Fax number they have provided above
XXXXXXXX.NET (Used to reinforce they are dealing with your site)
-------------------------------------------------------------------------------------------
By accepting this offer, you agree not to hold DS liable for any part. Note that THIS IS NOT A BILL. This is a solicitation. You are under no obligation to pay the amounts stated unless you accept this offer. The information in this letter contains confidential and/or legally privileged information from the notification processing department of the DS 3501 Jack Northrop Ave. Suite #F9238 Hawthorne, CA 90250 USA, This information is intended only for the use of the individual(s) named above. There is no pre-existing relationship between DS and the domain mentioned above. This notice is not in any part associated with a continuation of services for domain registration. Search engine submission is an optional service that you can use as a part of your website optimization and alone may not increase the traffic to your site. If you do not wish to receive further updates from DS reply with Remove to unsubscribe. If you are not the intended recipient, you are hereby notified that disclosure, copying, distribution or the taking of any action in reliance on the contents for this letter is strictly prohibited."
Read Carefully
A careful reading of the words of this scam indicates that it has nothing to do with the registration of your domain but is a solicitation for you to sign up for a search engine registration service offering to list your site in search engines for a fee.
Of course the major search engines like Google and Bing already automatically check your website pages and index them regularly with no need to list your material. If you frequently update information on your website this can occur as often as every week or two and usually means that they are well informed about your site content. If you make more frequent changes to your site by adding frequent blog articles or new stories or content your site may be updated even more frequently than that.
Why, therefore should you spend money to a company which you don't know to have your site registered by them? The answer is you shouldn't. There are legitimate support companies you can work with that can help you do search engine optimization (SEO for short). You are much better to find one with references and solid experience than to give money away in the type of email solicitation shown here.
How does this happen? Unknowledgeable buyer beware.
This scam is simply an online version of the old paper directory scam where offices were sent a document that looked like an invoice (but was really an ad) for some sort of directory of businesses. The hope with these was always that it would find its way into the hands of an accounts payable clerk who has authorized to pay invoices below a certain amount without approvals. The wording of these kinds of scam are usually similar and they put pressure for the reader not to miss some urgent deadline or they will miss out on the highly inflated claims of the offer.
The information that is used to set up the contact on these kinds of scams is obtained by trolling the public listings on the official web domain registration sites. To see yours do a Who Is enquiry in Google for your web domain and see what is listed. ie. WhoIs XXXXXX.YYY where you place your domain in the xxxxx.yyy. There is no space in the whois prefix. You will see what is available to the public through this search. If you did not setup your own domain name you should be able to see who did this for you. This is a service which many IT support companies or website development companies provide as a service for you. The actual domain registration cost is actually quite low, usually in the range of $12 to $15 per year although other services offerred may add to the cost.
When you compare this price range to the solicitation above where the "highly recommended" ten year plan is $295 and the " BEST VALUE limited time offer" life time (whatever that means) plan is $499 for the search registration services, you can see how this scam can bring substantial return for the company sending it out.
Is it legal?
I'm not a lawyer so I am not going to try to answer whether it is legal. I think the disclaiimer which makes up the fine print at the bottom of the document is designed to protect them from legal action. By signing and returning the document you have agreed that you accepted their offer
My guess is it would be tough to get away from the payment once you make it. The best chance is to watch for this kind of solicitation, take time to think it through and if in doubt check it out with someone who knows more about this kind of registration than you do.
Caution is a great option in this situation! Want to be sure: do a search on the DS 3501 reference and see the list of fraud notices that are posted about this scam.
Lee K