One of the things that most Canadians take for granted is the ability to communicate broadly both internally and internationally. In order to do this we spend significant budgets on wired, wireless, broad band wireless and wired (fixed) internet and finally on TV services.
Most of us figure we pay more for these kinds of services than others in the developed world do, especially if compared to the US. To be able to compare what people pay in Canada to the International market is a challenge as the way that pricing is developed is different in differing locales. One fundamental difference is that in most jurisdictions other than Canada and the US the device (person) making a call pays for the call. This means that when you receive a call or information you do not get charged. In Canada and the US both parties to a call are charged airtime on wireless connections. We do get a break however on charges for fixed wired telecommunications as we do not generally pay for time on local calls while in most other jurisdictions there is a per minute time charge for all outgoing calls.
CRTC Surveys
For the ninth year, the CRTC Canada's telecommunications regulator commissioned a comparison study for urban users in Canada compared to major international markets. In Canada the survey compared Halifax (NS), Montreal (QC), Toronto (ON), Winnipeg (MB), Regina (SK) and Vancouver (BC). For the US Boston (MA), Kansas City (MO), Minneapolis (MN), and Seattle (WA). Internationally Australia: Sydney; United Kingdom (UK): London; France: Paris; Italy: Rome; Germany: Berlin and Japan: Tokyo.
The survey was conducted in February 2016 and provides a snapshot in time view of the rates for a wide range of services.
Canada is low in fixed telephony
Perhaps as a result of Canada's long standing highly regulated system the cost of fixed telephony in Canada ranks as only the fifth or sixth highest of the 8 countries surveyed. Using a series of three categories based upon the average amount of minutes of time covered the rates for each of the countries were compared. Canada comes out quite well in this part of the study with significantly lower rates than most countries, including the US.
Wireless services suffer
Unfortunately, in results that are probably not a surprise to most Canadians the performance on wireless services are not as good.
In the comparison of mobile wireless telephony across a series of 6 categories covering phone only, larger amounts of phone time & text, and then increasing amounts of phone, text and data Canada ranks highest in cost on the low scale and second highest on most and third highest on one other.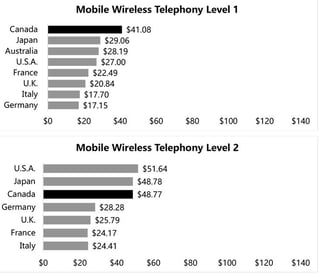 The data clearly indicates that we pay significantly more, up to 147% more in one category than the lowest cost jurisdictions.
Given the prevalence that mobile communications has in our daily work and personal communications these premiums of cost create a potential competitive burden our economy must carry when compared to major competitive international jurisdictions.
Fixed broadband better but still poor
Unfortunately, the story does not end at the wireless results. Our costs for fixed broadband capacity also reflect a poorer performance than over 50% of our competitors with levels of second, third or in one case fourth highest costs. One interesting anomaly which does show however is the poor performance of the US in this category where across the five bands reviewed the US ranks as the highest cost in all five with Canada following close behind in most.
Mobile wireless broadband
Going to a wireless service to provide broadband capablities is a strategy which some organizations consider and it is often the only service available in some locations. Unfortunately the Canadian experience here rates as third highest across the board as levels of data amounts are increased.
Bundled services
Especially at the consumer level the Canadian telecommunications providers love to promote bundled services.
When three categories are considered:
Level 1: Wireline, Wireless & Fixed Broadband
Level 2: Wireline, Fixed Broadband & TV
Level 3: Wireline, Wireless, Fixed Broadband & TV
Canada ranks highest cost in level 1, and third in levels 2 & 3. The differential between Canada's costs and the lowest cost country is as high as 200%.
Caveats
The study reports that there are some issues that must be considered in looking at the results, most importantly the provision that this is a snapshot in time where rate plans, currency rates and carriers are considered only at the period covered during the data collection.
Changes occur constantly in this field so the specific data may not reflect the total picture at a future date. On the other hand the trends shown and the relativity of the information provided can be a good guide for consumers and regulators alike.
The study provides significant amounts of information which can be useful in guiding decisions by companies and individuals. One very telling analysis looks at the use of fixed contract plans including cell phones as part of the contract as compared to a BYOD pay as you go plan and what the relative impact is for both consumer and providers. The result of the calculations is somewhat surprising.
To learn more or to read through more of the details of the study you can access it here.
For both consumers and businesses telecommunications costs have become a significant part of Canadian base line operations. Understanding how we compare to other locations around the world is important and can potentially influence our competitive situation.
Lee K
Photo Credit: Figure 7: 2016 International Mobile Wireless Telephony Price Comparison PPP-adjusted CD Prepared by: NGL Nordicity Group Ltd. (Nordicity)