Most people know that mobile access to the Internet has been a major growth area of technology since the advent of smart phones. Of course much of this is accessing and posting to various hot social media sites, like Facebook, Instagram, twitter, etc.
The ability for the mass distribution of information, especially images and video that these platforms have facilitated is a big contributor to their success. Anyone who is tuned into current politics either national or international knows that these are go to sources for many and also the means for millions of people to become engaged in current events.
The small form factor that smart phones and small portable tablets provide is not a real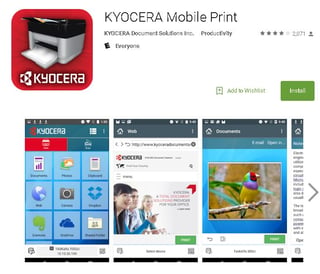 hindrance for consumption of the image and video material. When it comes to larger documents like brochures, longer text files and major papers the short comings of the small form factor start to show up quickly.
Print to the rescue
One way to solve the size issue is to forward a downloaded copy of whatever you wish to view to another device by attaching it to an email and then opening the big file on a computer, either desktop, laptop or larger format tablet. This process can be pretty cumbersome however if you want to quickly go through the bigger file.
If you are in your office or in a location where print devices are available you may have an alternative to the forwarding process. Simply call up the link, obtain the document, web page or whatever and use a cloud print app to print a copy to a network printer.
Of course this works best if you are within an environment where you know you may need to print and you have taken the steps ahead of time to make sure you are ready. In most instances you need to download an App that supports wireless printing to the brand of printer you have available. Pretty well every printer manufacturer who supports network printing will offer some App of some sort which will facilitate this use. You just need to know which type you may encounter.
I am most familiar with the Kyocera Mobile Print App as it is one I have tested out myself and it provides a good example of what you could expect. Like all there is some device dependencies so you need to know that the printer or MFP you are attempting to use is covered, however it is pretty comprehensive so most are.
According to Kyocera the App provides many potential benefits:
Print on-the-go in a mobile environment
Flexible access to information wherever you need it
No need for costly infrastructure - app resides on the mobile device
Automated identification of compatible devices
Robust settings for greater job control
Track print jobs when job accounting is enabled
Protect sensitive information with encrypted PDF capability
Copy and print text from other applications using application's Clipboard Printing functionality
Supports PDF, JPG, PNG, TXT, XPS, HTML, iWork, Microsoft Office for Apple
Supports PDF, JPG, PNG, TXT (lower resolution), XPS, GIF, BMP, HTML for Android
Wi-Fi Direct connection support with compatible Kyocera MFPs and printers
NFC (for Android) support on compatible Kyocera MFPs
If the device you connect to has scanning capability one of the key benefits of using the App is you can use it to scan a paper document (reverse process to what we are discussing) to your mobile device as well.
The best part of these categories of Apps is since they are FREE downloads through the Android or Apple App Stores. You could potentially have several of these Apps available for use on your mobile device to enable you to print in multiple locations. Even photo kiosks in many box stores have print devices ready to print your mobile photos for you using an App.
Of course most of what we do on our smart phones or other mobile devices will be onscreen consumption. It is doubtful that anyone is going to use their mobile phone as a primary print tool but the ability to use print as a means to better access difficult to read or hard to view material sourced by mobile is something not to ignore.
Check your devices from your office or frequently visited locations where you may have access to printing. Get the App(s) that support the systems and be ready to have an easier time reviewing material which is awkward to view on screen.
Lee K