Just about a month ago HP and Samsung announced a deal that will see HP acquiring Samsung's printer business which is said to be about $1.8 billion US annually. It appears that after many years producing print products as an OEM supplier and then a few years doing so under its own name Samsung has decided that it should focus on other aspects of its electronic industry.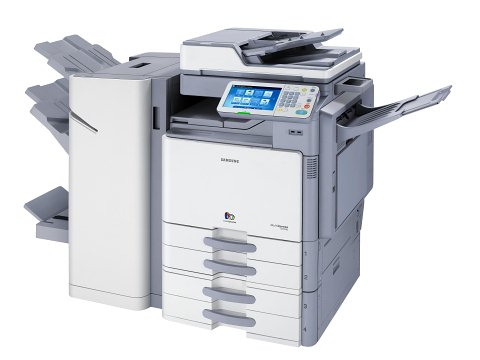 In the announcement HP has said this is the largest print related purchase that it has ever made.
HP has long used Canon engines for many of its laser printers and with this deal it gains the potential to move much of its engine production and R&D to the Samsung based designs.
I observe that it is only a few years that Samsung has been producing and selling its own brand of A3 (traditional 11 x 17 copier sized) products and it may be access to this area is one of the keys for HP. Over the past ten years or so HP has struggled trying to find a fit with multifunction printer devices under its brand which can take control of the office print market like they have successfully done with their laser printer models which are primarily A4 (letter/legal) sized.
By acquiring Samsung they instantly obtain a recognized set of full bore A3 office multifunction devices in both colour and mono which can be branded HP and could complement other units in their offerings. For those dealers which have been selling Samsung equipment it presents a bit of a challenge, but not one they will not have handled before. Potentially they may have a broader set of options presented as HP fills out the line. For most they will be dual branded and will have another line to use to fulfill customer needs.
Industry Changes Ongoing
This acquisition is just another step in a steady shift in the print market as the volume of paper changes and the moves to a more electronic or digital document world continue.
Konica Minolta was created through the merger of two separate brands in 2003. Ricoh has built up its operations through a string of brand purchases over the years, Ricoh acquired Savin, Gestetner, Lanier, Rex-Rotary, Monroe, Nashuatec, IKON and most recently IBM Printing Systems Division / Infoprint Solutions Company.
Kyocera entered the print industry with the acquisition of Mita in 2000 and continues to be a full scale document solutions company today.
Lexmark was spun out of IBM and became a separate public company. It was recently sold to Apex Technology and PAG Asia Capital and continues to operate as a separate company based in the US.
Sharp was acquired by Foxcon (they are a manufacturer of all kinds of electronic products including many for Apple).
Of course HP itself has undergone a structural change with the separation of the print and hardware business (HP Inc.) from the Enterprise software and services business (Hewlett Packard Enterprise) into two independent and separate operations.
Industry responses
Of course in the print industry this purchase has caused lots of questions and analysis.
A Few Thoughts on HP's 'Disruptive' Announcement – Part 1
A Few Thoughts on HP's 'Disruptive' Announcement — Part 2: Ripples on the Imaging Industry Pond
Just one man's thoughts but he does a pretty good job of reflecting some of the thinking that is being done within the industry.
The next year or so as this acquisition starts to be fleshed out and the results flow into the business environment we will see both the full level of HP's strategy and the responses of the other players in the print industry. No matter what happens we know it is not going to be business as usual, simply because the pressures of change that are evident across this market are continuing.
Is this the end? I doubt it but it is hard to predict what the next moves might be. Keep watch.
Lee K