The announcement that Microsoft is buying Linkedin for $26 billion is almost too big to imagine. For most of us doing deals in the thousands is more the norm and for Microsoft to pay such a large number for a company with about $3 billion in annual sales seems a bit strange.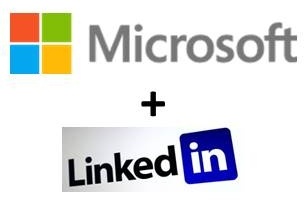 In reading through the news a number of things start to show up, most broadly in an article which captures the internal announcements by the two CEOs involved. It takes a bit of time to read through the details but for anyone who is interested in how mergers and take overs occur it should be must reading.
In both cases the main points being made are all about fit. How Linkedin fits with Microsoft's direction and vision and how Linkedin's focus on members and helping them grow fits with Microsoft. I'm not sure all of this really works in real life but then I am not inside either of these organizations looking at where they see themselves going.
One key theme about the take over is the intent for Linkedin to continue as an independently run business focusing on its own growth and expansion. A big plus that is described is the ability to link Linkedin promotion to the massive number of Microsoft cloud users and through the main Office platforms. This expands by many times the ability for Linkedin to grow its base and promote its services to non members.
For Microsoft there is the potential to build a stronger base with the large data base of professionals who belong to Linkedin. Of course many (perhaps most) of these professionals are going to already know about Microsoft and be users of its products. On the other hand the idea seems to be that because of their Linkedin connection there may be places where Microsoft can expand its penetration or grow the amount of use people make of its products.
Given that Linkedin only started about a decade and a half ago the concept that it has such value and potential is almost scary. It shows in many ways how pervasive social media has become in our connected world. Watching where it goes from here and how successful Microsoft will be with this new venture is going to be interesting to say the least.
There is going to be lots of commentary in the coming weeks as this plan rolls through and the necessary steps are taken for final approvals. For more thoughts here are a few interesting connections:
For Linkedin members it will be interesting to see if the platform changes over time in a positive way or if the influence of the deal (Microsoft needs to see a return from this kind of big investment) stalls the platform's innovation.
Lee K
Photo credit: Microsoft logo trademark of Microsoft Corporation, Linkedin logo trademark of Linkedin Corp.