A week or so ago I upgraded my first computer to Windows 10. How hard? Not really at all. The computer I decided to go with first was my wife's Windows 8.1 laptop because it is not usually involved in any mission critical work around our place.
The upgrade files were quietly downloaded to the computer over a couple of days and then the notice which says you are ready to upgrade appears. All you have to do is click on the notice and the process begins. I decided to monitor it while I watched the Blue Jays game one night and the total process took about an hour and a half. The laptop is not super full and has lots of hard drive space and is an i5 duo processor so it is fairly fast.
Generally, the process was straight forward although monitoring it paid off because at one point I needed to manually engage a reboot which did not come automatically and this would have delayed the changes if I had not been attending the system. Other than that one instance the upgrade process ran on its own, through several reboots and finally the computer announced I was ready to go with Windows 10.
Things like commonly used task bar items, bookmarks, and most apps installed migrated over and could be found pretty quickly in the new OS. There are changes however and some apps were deleted due to lack of support or their replacement by new ones under the new OS. The biggest change was in the browser with the new Microsoft Edge browser replacing Internet Explorer. Naturally it makes itself your default browser and if you want to work with Chrome or another browser you may have to download and install new versions.
First off you will be happy (is you like the Windows 7 interface) that the start menu is back as a default. For Windows 8 users who were used to the tiles system you click on the windows button in the taskbar and the start menu pops up along with the tiles along side. The search area at the bottom of the menu will become your friend for awhile as you use it to easily find familiar items that are now either hidden or in a different place. So far I have not found it too tough to work through but expect to spend some time with a learning curve before you are proficient.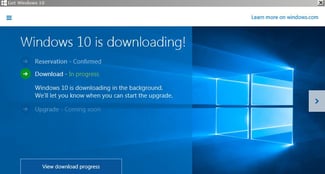 Larger organizations
What I have described is an upgrade process for a single user device
which is not mission critical so the loss of productivity due to learning new tools is not a panic case. What about in your business environment and in large IT departments. Microsoft's plan for the new app is to replace both Windows 8 and Windows 7 as quickly as possible and migrate users to the new OS. The challenge for IT departments and for smaller organizations is to accomplish the upgrade while using mission critical equipment.
An incremental process is needed here so that some users can be learning the new way while others still continue to function 'normally'. Piloting the process is going to be needed so that unforeseen challenges can be handled before everyone is affected. There are tools available both from Microsoft and through third party vendors to assist the evaluation and the deployment. A recent article in IT World Canada offers suggestions and cautions for consideration. One comment is important. "...the number of apps that have challenges in Windows 10 are few and it's easy to detect why." This is always one of the big challenges in multiple machine installs however it appears that the impact in the case of the Windows 10 upgrade my not be as bad.

My next personal step is to undertake the upgrade on my primary computer which is a relatively old Windows 7 laptop. I am getting the notice each day that it is ready for upgrade and has met the upgrade standards that Microsoft has determined are needed. One of these days soon I will click the button and get the revision underway partially because I am hoping that a few nagging things that have crept into my machine over the years will be corrected with the upgrade and also because I figure the only way I'll ever become comfortable is to be forced to work with the OS.
Good luck once you decide to make the switch. I don't think it is going to be too painful.
Lee K