One of the things that many people struggle with when they try to move away from paper in their operations is the ability to build a new workflow that reflects the new approach using electronic tools. Google has introduced a new tool as of August called Classroom. This new educational offer replaces the typical paper flow of classroom assignments and grading using a shared structure in Google Docs.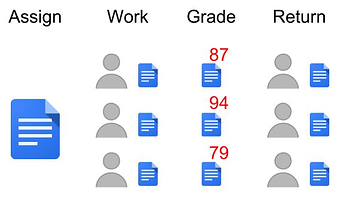 Tech Republic analyses the new offering and shows how a typical paper workflow can be substituted with a replica electronically which makes handling assignments easier and more portable as long as each party, teacher and student, has access to a computer or tablet. It appears to have some merit and makes for a fairly easy way for teachers and students to become more familiar with using online tools to carry on their business.
One of many education focused tools
On a broader front this new offering from Google illustrates how broadly the technology industry is targetting education as a sector for expansion of their systems. Many other brand offerings focus on delivering easily used tools which can assist teachers and students every day. Of course deciding which are right for any environment is an issue and this can consume teacher and administrator time and effort if not undertaken carefully.
For example, Kyocera has had a tool for designing, printing, and grading mark sense tests for any use for some time. This tool called Teaching Assistant works with models of Kyocera MFP devices and makes it easy and inexpensive for a teacher to create a mark sense test tool for multiple choice testing, distribute it to each student and then by using the device to scan the student sumissions, the teacher can score the tests automatically. Once a report is obtained from the MFP the cycle is completed.
Data storage still is an issue
One key feature of this Kyocera app is that it permits the results and data to be stored by the teacher on their host network rather than in a cloud app like Google Docs. This keeps the information under the domain of the educational institution rather than in a nebulous cloud in some jurisdiction which is unknown. I do note however that some school boards in Ontario have adopted Dropbox as a tool for teachers to be able to store and access information remotely. This is an issue which still confuses and frankly can raise some concern given the lack of transparency about where many cloud systems store their data.
Every organization and most importantly public institutions must be concerned about the security of their data. Sometimes convenience leads the adoption of less than best solution.
As more and more electronic tools become available, especially those targetted at vulnerable industries like education and health care doing due diligence about how the whole process will work is an important component of adoption. Of course there is a point where a decision must be made and a balance reached.
There may be the potential of big cloud players like Google and Microsoft to offer a way for critical data storage to be placed on the host user's network while still making use of these new advanced cloud type tools. In some ways this is a Canadian problem as we find ourselves so closely linked to the US experience (where cross border jurisdictional issues are not an issue for the Americans). Given the size of the Canadian market sometimes the privacy and data locational issues may not be considered.
How do you feel? Is the potential benefit worth the risk? Do these kinds of electronic tools enhance your ability to function? Is Classroom the right workflow for you?
Lee K
Photo Credit: Tech Republic