Kyocera Document Solutions is continuing to refine and add to the suite of available applications which support their line of multifunction printers (mfp).
Teaching Assistant Version 2.5
A recent upgrade to the Teaching Assistant application which permits the use of the mfp to create and grade mark sense (bubble) forms for use in multiple choice testing has added substantially more features. For currently licensed users there is no cost for the upgrade and there is no change to their current licensing provisions all that is needed is to load the upgrade on the mfp.
For new users the price remains the same as the former version with a published MSRP of $1529 (Kyocera Document Solutions Canada pricing). A license is required for each mfp to be used with the application.
So what does Teaching Assistant do and what is in the upgrade?
Essentially, Teaching Assistant is an application for automated printing and grading of multiple choice exams using bubble sheet forms. Using the application a teacher can print, collect and analyze test results and create reports of the resulting data. There is no need for preprinted bubble sheets and each sheet produced can be matched to a specific student so that at grading time the data is automatically tallied. The application works with the latest versions of the Kyocera HyPAS enabled mfps and some previous generation models as well.
The Version 2.5 introduces some new capabilities and enhances others including:
New grading methods including grades on a scale & grades on a threshold

Ability to track response frequencies by creating a frequency table which shows patterns in student responses

Numbered bubbles are now permitted as well as alpha characters

Integration on a network with Excel (2010 and above) which permits printing and grading tests directly from Excel

While the name implies that Teaching Assistant is only valuable in a school environment there are many other places where test scoring and multiple choice data could be used. What about in a training environment or for survey data? The application has a broader appeal and capability than only for a school.
Homepoint
Homepoint is a HyPAS enabled application which is designed to more easily integrate document scanning and printing from Kyocera HyPAS capable mfps into Active Directory enabled network environments.
When Homepoint is installed access to network home folders is made easier and users can even browse subfolders under their home folder from the device to either scan to them or to print from them, (Homepoint Advanced). Using rfid card readers users can access their home folder quickly by just tapping their ID card instead of having to input login credentials.
Traditonal scan to pc applications using network scanning force users to scan to a folder on their workstation and then manually move the file once at their pc to the location they may wish to store it permanently. With Homepoint this choice can be made directly at the mfp device and the file placed in the final destination first time out, usually in a home folder structure on a centralized storage server.
Homepoint basic (supports scanning only) is a value added application available with Kyocera HyPAS enabled mfps. Homepoint Advanced is an enhanced application which can be purchased to add additional capability as needed.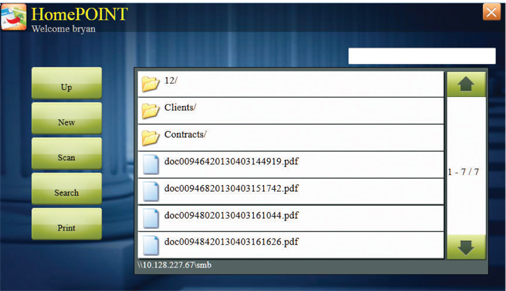 There are several ways to setup scanning using either the native installed features of mfps or using addon applications which can offer alternative ways to accomplish things. As outlined in other articles picking your mfp and matching its capabilities to what you want to do not only includes looking at the hardware accessories and features but more and more it involves determining which applications you might be able to use to enhance your operations further.
This world of software coupled with hardware is not going to get any easier but the potential rewards for more return from your investment are substantial so they are worth the effort.
How is your scanning setup? Does it meet your needs or would you like more? Do you run training sessions or other activities which could use the capabilities for test capture of Teaching Assistant?
Lee K
Photo Credit: Kyocera Document Solutions