Much has been made about the CBS News report on digital copier hard drive security. I have had discussions with several of our clients who were asking if they should be concerned. We have advised them this is a manageable process. In some ways it is similar to
shredding paper documents
when they come to the end of their useful life.

The concerns raised have been known for several years and are similar to concerns with computer hard drives at the end of life of a computer. None of the brands we carry were part of the subject of the report.
Multifunction printer manufacturers have responded to the need to provide security in several ways:
some have made removable hard drives available as options
all major manufacturers offer some form of security option which will provide levels of encryption and file removal
there are reformating options which are available through the service settings on machines which will overright the hard drive and return the device back to factory settings.
As a vendor of these devices we provide various levels of response to meet the varying needs of our clients:
at minimum we reformat drives at the end of a lease and return the multifunction copier back to factory specs.
for some brands we can remove the hard drive from the device, connect it to a computer and use drive overwrite software to wipe the data more securely.
for clients who have concerns about security during the active use of the device we will configure equipment with the encryption options available from our suppliers, Kyocera, Samsung and Ricoh.
if clients are exceptionally concerned about the potential of data on hard drives then we will offer to the client the ability to "buy" the hard drives from the device and we will put new drives into the device before returning. The costs of this option will vary depending upon how the manufacturer has dealt with their hard drive design. In some instances the drives have proprietary boot formats and are only available from the vendor leading to a more costly replacement.
While we have not experienced the level of data exposure that was shown in the news coverage the issue of client data security is important for every business. Responding to ensure procedures are in place to protect this information is important to everyone concerned. When laptops, cell phones or desktop computers are recycled at end of life it is important that users are aware that all of these devices have non volatile memory locations which need to be cleared and data removed. Print devices of all types which use hard drives to carry out their work are simply subject to the same precautions.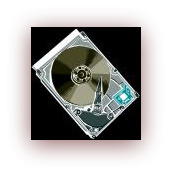 Working with your vendor to establish the right mix of security, cost and information protection is an important part of any acquisition in this digital world.
Lee K
Did you buy the data security kit with your new MFP? Is this a concern for you?