Scanning has become a staple of most offices that use multifunction printer - copiers. Through these devices users have the ability to capture paper documents and use them in their everyday business. E-mailing has overtaken faxing largely due to the ability of businesses to easily adopt scanning.
What if you don't want to have to get up from your desk and walk to a network connected scanner to deal with your documents?
There are several scanners which are primarily designed to be used as low volume desktop convenience scanners. This is a rapidly growing area of scanner use as the ease of entry of documents is facilitated by working with one document at a time. It can substantially help users to achieve the clean desktop that is seen as part of the paperless office.
A quick review of one such unit...the Fujitsu S 1300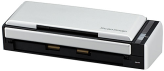 There are many other units which can work in a distributed scanning environment. The choice of model will be dictated by the types of documents you have to scan, the speed you need, how many pages per day you will process on average and whether you need specialized software connections.
Of course the final piece of this equation is what will you do with the scanned files once you get them into your computer. Users who start to build a folder based document storage usually find that it becomes unwieldy and cumbersome. Picking a suitable document storage solution will be a topic for another day or you can download our -9 Red Flags to Avoid in Document Management! if you are considering a full fledged document management solution.
How do you capture paper documents? Are you still working with a flatbed scanner? Does network scanning from a multifunction printer meet your needs? Join the discussion...your comments are welcome below.
Lee K
Video Review Credit: Courtesy of Articlesbase