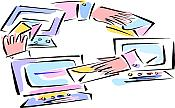 Here is the next edition of the office document strategies weekly digest. Each week I feature a few of the articles, topics and stories we have come across that enhance knowledge of use, management, production and eliminating documents. Feel free to add your suggestions in the comments section below.
MS Small Business Server 2011 Shines

Tips from the Techs - Passwords, their importance and how to be sure yours are good enough

Shaw appears to be backtracking from their earlier support of limitations on interent downloading.
http://www.rabble.ca/blogs/bloggers/openmediaca/2011/03/apology-shaw-crates
If you are personally interested in commenting on the CRTC decision limiting internet downloads in Canada then use this link to send them your comments directly.
A quick video illustrating one way that document workflows can be enhanced in your office.
Tablet Wars and the iPad 2 - Some perspectives.