I think one of the greatest tools that Microsoft has built into Windows 7 is the snipping tool. I have pinned it to my task bar and not a day goes by when I don't find a use for it.
One of the neat uses I have found is capturing slides during webinars....one of the frustrations of these great learning tools is being able to get the notes you want easily. Of course most webinars do get recorded and you can review them later but often it is still hard to get the actual info off of the slides.
My solution is to use the snipping tool to capture the slide info as the webinar is being presented.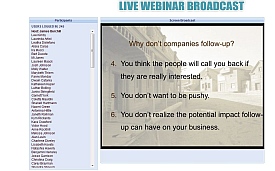 I just save them to my picture library and there the notes are for me to refer to as I like. You can easily send the the captured file to someone else as well since the send button in snipping is always available.
I didn't really know how much I missed the snipping tool till I had it to use and now I find new ways to use it every day. Have an image you want to alter so you can use only a part of it? Use the snipping tool.
Have a part of a pdf document you want to store or capture to send? Use the snipping tool.
Want to remind you to do something that is shown on your computer screen while you are working on the web? Use the snipping tool to capture the notes and then send it as an e-mail or an e-mail with attachment to yourself. Acts as a reminder and also as your notes for action as well.
I think there are many reasons why you would upgrade your computer from XP to Windows 7, but I would suggest the snipping tool is the most promising of the list.
How do you use the snipping tool? Share your experience below.
Lee K