In the last blog I reported some of the results of our recent e-mail survey of SMB's in the Hamilton, Halton area of southern Ontario Canada. This article will focus on some of the IT network specific data that was found in the results.
Desktop Operating Systems
When asked what operating systems they used the results show a large penetration of Windows 7 along with the usual Windows XP dominence. The high percentage of Windows 2000 was a surprise given the age of this system and the lack of security support for it.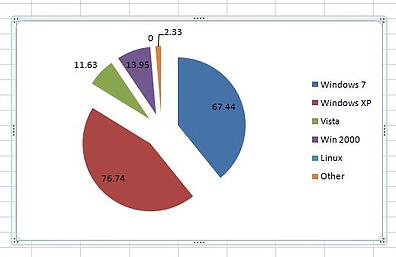 IT Management
The split of management of IT operations was almost equal between each of the choices presented. A third of the respondents manage as an in-house system, a third use outsourced IT management and a third use in-house supplemented by out-sourced assistance.
IT Network Backup
Over 50% of the respondents reported using portable hard drives for network backup. Still almost 30% are still using tape. Offsite backup is growing with over 25% using a service to do this and just over 9% backing up offsite to a computer they own. The variety of backup tools shows that there is mixed senses as to what might be the right solution for most. Given the low cost and the ability to get larger sizes the move to hard drives is understandable, however as a largely manual process it can lead to challenges.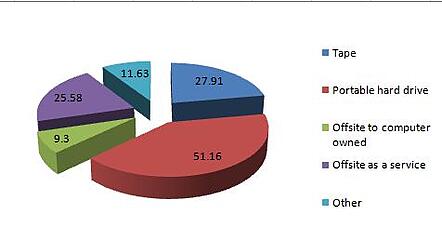 SMB network management is an important component of business operations. It can be seen from the data that a migration from Windows XP to Windows 7 is under way although the use of both systems is significant at this point. As hardware refreshes are undertaken then a further shift to Windows 7 can be expected.
Managing the network is a task which sees several solutions with the even split between in-house and out-sourced resources. Size will be a factor here as well as the complexity of the operations. A trend to out-sourced managed services on a fixed contract basis has been seen in many jurisdictions in North America and it will be interesting to see how fully this trend penetrates our local area.
Finally, IT network backup is a constant issue for all operators. The number of systems still depending upon tape was a surprise and I would expect to see growth to more offsite backup using out-sourced services as internet connection speeds increase. This may be the first step for entering cloud computing for many companies.
How do you operate your It network? What is the biggest issue for you in keeping a reliable and secure system?
Lee K
Small Business Cloud Based Document Storage - docUcapture Information & Signup