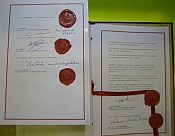 One of the things that bothers me the most when I am dealing with clients is when I learn about deals they have entered into that are just not good for the client. This occurs in all of the areas of our business, IT support, multifunction printers or postage machines.
Unfortunately there are players in our industry that really subscribe to the "buyer beware" philosophy of business. Of course these deals can do damage to us all and hurt the ability for dealers who attempt to work towards a true win win relationship with their clients.
As one of our major clients asked when we were finalizing a recent deal. "Am I pushing too hard? You have to tell me if this can work. I count on having you around to deliver the service I need." This attitude get's this client great pricing, every break we can give them, and the best service from all of our team. It is refreshing to do business with a client like this and we are lucky as we have many like this one.
Of course there are clients that are less likely to be concerned about how the deal impacts your business and that is ok too as long as it is not pushed too far.
Too often however we come across clients who have had someone take advantage of their lack of knowledge to get them to sign up on a bad deal. I recently read a post in a blog by Art Post the man behind the Print4Pay Hotels "MFP Solutions Blog" where he describes a particularly troubling deal one of his prospects ended up in...Copier Dealership Gone Bad.
Art is a very knowledgeable and experienced representative in New Jersey and the story he tells is sad to read. In the end clients are cautioned to be wary for any deal that just looks too good to be true...especially if it involves making lease payments go away at no cost.
What kinds of "deals" have you been offered? Were they too good to be true when you delved further? Are you paying on a deal you wished you had not made? Share your experience below.
Photo Credit: Zinneke - Wikimedia Commons
Lee K