Sometimes people want the capability of a newer copier-mfp but are not able to pay for the latest and greatest. An option that often works for them is to consider a lease return or refurbished machine. Unfortunately, this type of purchase can be a challenge if you do not understand how the industry works. Here are things you should consider before entering into a deal.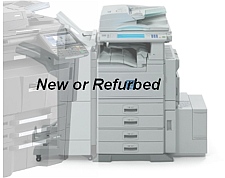 What mileage (number of previously printed pages) does the copier-mfp have on it? Should be straight forward you would think, check the counter and it should visible. Unfortunately, this is not always the case. "Resetting the copy counter to zero" is the number one bullet on one national vendor's re manufactured product page. Would you buy a used car where the vendor had set the odometer back to zero? (Illegal in most jurisdictions). Don't buy or lease a copier where the meter has been set back, unless the vendor can certify what the mileage was BEFORE the meter was changed. YOu should know what previous use has been on the device before you buy. It is part of the decision process.

There is a difference between re-manufacturing and refurbishing. One implies that major upgrades have been done to the device and that main components have been replaced. The other says the machine has been cleaned up, parts replaced where needed and the copier-mfp has been brought up to good serviceable level. Is the first better than the second? Not always as the most important component will be the ability for the vendor to provide good after sale support.

The vendor has experience with the model and the brand being supplied. All brands of copier-mfp equipment is not generally supported by all suppliers. Unlike automobiles, the specific access to parts, supplies and inside knowledge is often only available to trained and certified dealers. Ensure your supplier has good knowledge of the model being suggested.

The product is new enough to be supported by current levels of computer operating systems. Buying a 5 or 6 year old copier or mfp is not a great idea as the support in newer computer operating systems and with newer software can become a problem...maybe not right away but often in a year or so.

If the device is colour, be careful if the model is more than 4 years old. The operating costs of colour print devices have been dropping significantly (I can remember 5 cent B&W and 12 cent colour, toner out support plans not too many years ago) so you could be locking yourself into a more costly plan with an older device. Do the math, or have your vendor do it for you showing the costs of a current model compared to the proposed lease return, used copier-mfp, including projected operating costs and then you can better determine whether the older device is a good idea.

Consider a smaller, slower, or lesser capable new device on a longer term lease (I don't recommend beyond 60 months if it is colour) versus the used device. In the long term you may save money and have fewer issues.
A lease return copier-mfp can be a good option, especially if your volumes are going to be low or your needs are limited. Understanding what you are getting and what the limitations of the device might be can go a long way to helping you determine if the choice is right for you. Often you can obtain a unit with lower operating costs or more features than you might afford new, but you must consider the life span to expect and the running costs to be incurred. Don't expect a 4 year old unit with 200,000 pages on it to run for another 5 years and do it without issue, unless it is very well serviced and supported.
Understand there are reasons why new models get released, either for more operating efficiency or to better utilize new software tools.
Have you had positive or negative experience with a lease return copier or mfp? Do you think rolling the mileage back to zero is ok? What would you suggest be added to this list?
Lee K