In my first blog about my experiences in using a Lenovo Thinkpad Tablet I was able to share first impressions as I started out with this new tool. This week's blog covers my first full week of working with the tablet as I was in client meetings, some committee sessions with my Rotary club and as I tried out more of the applications available for the Android operating system.
Here's some of what I have learned:
Being a long time PC user I miss the file directories available in Windows. So far I have not found an easy way to manouver around the various files I have created in several apps. I'm sure this is a learning curve thing but as a new Android user I still find the interface a bit of a challenge.

Installing Android apps has been easy and I can see where the capacity of the tablet could really be challenged if you just kept adding on useful but multitudes of apps. I loaded the Dropbox app and it synced with my active Dropbox account superbly. Same is true of Evernote, my favourite pile and file tool. There are hundreds of great apps available so you can go crazy if you want. I loved the accuracy of the GPS and integration with Google Maps.

Still getting used to the Notes Mobile app which comes with the device. So far I find I use the freehand writing tool more than the text conversion tool but I think that will change. It is remarkable to watch your rough block text turned into neat text based records. I find the freehand tool works good for quick sketches and notes. I am getting much more comfortable taking notes on the Lenovo tablet while in meetings or in client interface. The capability is still uncommon enough that people comment.

E-mail through my Gmail account is great and works well. You can directly e-mail text or image files of your notes from Notes Mobile...I use it to send them to my workstation at the office for reminders. Integration with Exchange or other e-mail services should work fine as well. Since this is a loaner for short term use I'm not going to go that far in the testing.
Client Challenge - Annotating PDF Files:
One of our clients presented an interesting challenge to me. He has been using a convertible laptop/tablet for several years to read and mark up large PDF files he receives as part of his role in a not for profit board of directors. He asked if there was a way to do this with the Lenovo Thinkpad tablet. I could not find a way to do it out of the box but after a search of the Android App Market I found several PDF editing apps available. I have downloaded the qPDF Notes demo (fully functional but puts a watermark on the files)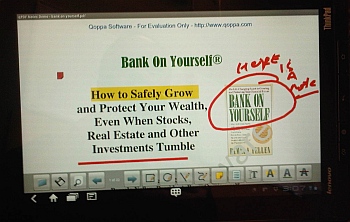 to try the capability out. It is remarkably easy to use and you can highlight, underline, strikeout, box, circle and use freehand notes among many other annotation capabilities. Pretty slick app and the $8.99 price would not break the bank. You can save the annotated file for later use without overwriting the original.
Next challenge is to see how the tablet works for a Skype session and continue to see how well I like it when using it to replace my paper note books for meetings.
What uses do you see for a tablet? Have you found any specific tools that have made your tablet experiences better? Could a tablet replace other tech tools you use? Share your experiences, please.
Lee K