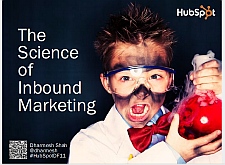 For over a year now we have been using a system provided by Hubspot to host and manage our website. The Office Document Strategies Blog is a key element of that site and we have been building content in this blog as well as working on other elements of our site.
So what does this have to do with the topic of this blog?
Without the Hubspot program this blog would not have been developed and you would not be reading it. I have found that writing a blog is an interesting challenge as I try to provide useful information that can relate to our target readers, people who have to deal with documents in their offices. I have covered IT related topics, mailing systems, document management, print devices and customer service stories.
The principle behind the Hubspot mantra is that instead of designing slick ads, promoting through the traditional media, and constantly getting in the face of clients and potential clients (outbound marketing) we should focus our time on producing useful, targeted and informative content that can help people make use of the things we know. With this material people will find us as a potential source for the things that they need as they conduct searches on the web.
I have tried to search out other sources of information to compliment what we have learned internally. Sources like the recent blog featuring John Mancini of aiim on World Paper Free Day.
In that spirit here is another interesting resource...a presentation done by one of the founders of Hubspot, Dharmesh Shah at the Dreamforce conference in September.
It is an interesting, entertaining and for all of the data behind it, fairly easy to review insght into his view of where marketing is going. If your company needs to sell to survive then I recommend you watch this presentation.
There is a transcript available of his presentation on the Hubspot Blog as well.
Translating inbound marketing to a local or regional business is a challenge and we are constantly working to meet the challenge of building readership in the Burlington, Hamilton area directly. In the meantime I am happy to see people from around the world who are finding us, downloading some of the material we offer and hopefully using it to profitable ends.
As I enter another year of blogging and searching for the right mix of useful information and quality content I express thanks to Hubspot for preaching the gospel according to inbound marketing. It feels better and more rewarding to try to help people accomplish those tasks in their offices that they need to do as compared to trying to interrupt them and get their attention to deal with something we want.
Our business has been built for the past 36 years on providing top support and useful information to help people better manage their office documents. It seems fitting to use a marketing process that is designed to do the same rather than the traditional methods that so dominate our industry. I'm not sure I could shout loud enough to get heard that way anyway.
Hopefully, I am not a voice crying in the wilderness and the inbound philosophy that Dharmesh presents so well in these slides can carry over to our industry and compliment the way we like to deal with our clients and look after their issues. I know we are going to stay at it and build our knowledge base and hopefully bring some clients along with us.
Do you like conventional marketing? How often do you go to the web to find information through search? Is the web a key resource before you buy? If you think Dharmesh has something important to say please pass this blog post along to a colleague as well.
Lee K
Photo credit:  Hubspot