Up until the last few months I found that monochrome MFPs were the dominant choice for Hamilton MFP deployments. This has changed recently with a predominant number of new sales being for colour MFP models.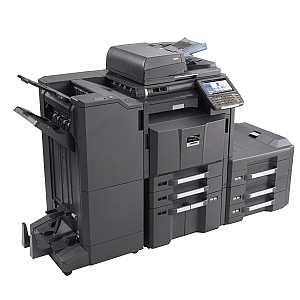 Why has this happened? I think there are several reasons.
There is much more choice for colour product available. In late May of this year one vendor, Kyocera introduced eleven new models into their lineup of MFPs. Six of them were for colour MFPs and five for mono. Other brands are similarly skewing their offering more to colour choices.

Colour MFPs are starting to be more closely priced to match the mono choice. Hamilton area MFPs are generally $1000 to $1500 more for a similar speed colour compared to mono. On a four year lease basis this is about $20 to $30 per month. Not a lot given the additional capability that the colour offers and much less than what a colour laser printer would cost if bought stand alone.

Colour MFP operating costs are getting close to that of mono devices. At one point you paid a significant premium for running your B&W prints on a colour device. This is no longer the case. As long as your volume equates to the 'normal' range of operations expected from the devices you should not pay more than a couple of tenths of a cent premium for B&W on a colour MFP and in many instances you may pay none.

Vendors are pushing colour. Some vendors are just not offering the mono option unless the client demands it. Its kind of like buying a car today where the auto transmission and air conditioning are just assumed unless you specify something different. Sales reps are often commissioned differently for colour vs mono equipment as the potential for the vendor to make incremental income on the colour is always there when it is deployed.

Colour device reliability has improved to the point it is acceptable to most clients. In the past colour equipment had less than a stellar reliability record. Some models from some vendors were terrible and most required significantly more support time. While new models will still command some additional support the ratio is much lower than in the past.

Colour printing has become an accepted standard. Most offices require at least minimal colour printing. Many require substantial colour printing. It is no longer limited to the design or marketing departments so having colour devices more conveniently located to users is becoming common.
We recently won a national contract for a major Canadian company. In the past they had only three colour MFP devices in their Burlington office. With this new contract they will have all colour devices making the access to colour available to all employee groups. Part of the reason is cost. They can deploy colour for costs which are close to what they would have paid to deploy mono only. They also realize that most of their employees are customer facing and therefore making sure that all of their printed material is presented with the best quality is an important company goal.
Is this a trend that will grow? I think it will and we may be seeing the end of the mono MFP in a few years just like we did the mono inkjet printer a decade ago.
How do you use colour printing in your office? Is mono good enough today? Is a colour MFP in your plans? Share your thoughts below.
Lee K