Small and medium businesses (SMB) can be especially challenged by IT network management and support since this is usually an area which is outside of the owner/manager's expertise and is a constantly changing environment. In addition small businesses can be challenged to make the necessary investments to keep an IT network running smoothly without becoming overly invested in the technology. It is easy to fall behind and then find yourself facing a large capital need when much of your infrastructure needs refurbishment.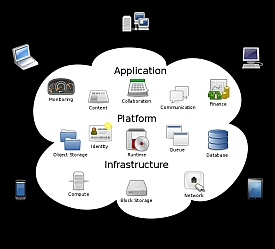 Cloud computing has become a potential means for small businesses to maintain an adequate IT network infrastructure while controlling the cost of acquisition. Here are four reasons why you might consider the cloud for your network services.
Lower initial capital costs and predictable recurring expenses - Cloud services can eliminate the need for large infrastructure investment allowing small businesses to obtain IT services without major capital investment. Prepackaged cloud services at predictable monthly rates are easier to plan and budget.

Greater agility and scalability - The cloud provides the means for the business to grow when needed and shrink if the tools are not as in demand. With many services you can gear up right away for new projects and if they come to an end you just cancel your ongoig contract for the tools you have been using.

Enhanced ability to focus on other core activities - Rather than have the IT services become another management issue, taking internal time and effort to structure and control, with the cloud you simply make use of the services you need while the vendor manages the infrastructure and programs.

Use of higher resource programs and capabilities - With the cloud the vendor can deploy more advanced enterprise level solutions and use them to support multiple users and clients. As a purchaser of the IT services the SMB gets access to programs and applications which would not be affordable to acquire for sole use.
If your IT environment is getting long in the tooth and it is time for you to consider an upgrade, then it may be time to look at the many options which are available for accessing the cloud to support your business.
There are cloud services available for most primary needs in your office; word processing, spreadsheets, mail, communications, collaboration, publishing software, ERP systems, CRM, and document management can all be accessed through the cloud.
What cloud applications do you use? Have you considered building your office IT environment entirely through the cloud? Do you trust the cloud?
Lee K
Photo Credit:  Wikipedia, SamJohnston