On of the most popular uses of mfp (multifunction printer or copier) based scanning is the ability to scan to e-mail. One of our clients recently highlighted a frequent problem that users encounter when they don't fully understand the way to setup their scanning for efficient scanning to e-mail use. Here's the story.
Our support desk got an urgent call from this client asking for information for adding additional memory to their mfp. We started our usual qualification process to find out what the real issue was because we knew that their device (a Kyocera TASKalfa 250ci colour multifunction) already had 2 GB of memory and an 80 GB harddrive as standard capability. Scanning should not be an issue with this device.
What was learned when we contacted the client was they were trying to scan to e-mail using a scan resolution of 400 dpi in colour on the device. When the file was scanned the device captured it fine, but the transmission timed out and created an error each time.
Why did this happen?
The answer was clearly the size of the files being created when a colour scan at 400dpi was performed. The client's network and their internet connection could not handle the size of the resulting scan file and so each time someone tried to scan to e-mail the system timed out and gave an error.
The solution
Our technical team member determined from the client that they simply needed to send a copy of the document to the e-mail recipient. Colour was not a necessity and they only needed to know that the resulting transmission would be readable. Essentially they were using scan to e-mail as a substitute for faxing documents. This is a common and fully supported function.
Once the scan settings were changed to 200 dpi, monochrome, the files were quickly and reliably sent without a hitch.
Understand when to use higher resolution scanning
MFP scanners generally will support up to 600 x 600 dpi scanning and do so in colour on many models. At this resolution it is easy to create files that are in excess of 15 MB in size which is well past the transmission standards and reception standards for most e-mail systems. This file would be at minimum 9 times larger than the same document scanned at 200 x 200 dpi. When you add colour into the mix then the file sizes grows exponentially larger again.
High resolution and colour settings are usually reserved for those specific instances when a file needs to be captured for editing or for high quality reproduction. Scanning to folder on a fast network is a prerequisite for successful use of these advanced capabilities.
A quick sample test
I decided to test the theory about file sizes and the image shows the results of four tests on the same document using 4 ranges of resolution settings and B&W (mono), greyscale and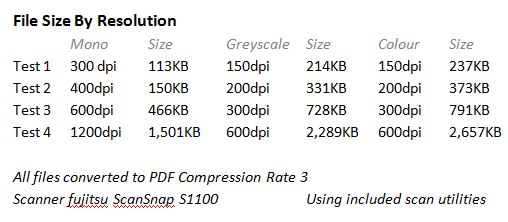 colour settings. These results indicate smaller file sizes than you might expect, but the scanner I used (fujitsu ScanSnap S1100) only produces compressed pdf files and these can easily be four times smaller than those which would result from a networked MFP. Here's the document that I used - page 1 only.
What scan settings are your mfp scanners defaulted to? Does scan to e-mail work in your office? Do you use high resolution scan settings?
Lee K