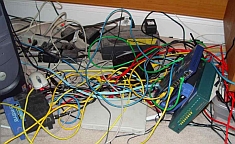 I recently had a medical practice that was looking to set up a small scanning operation to convert about 1000 patient records to electronic medical records.
Knowing that they would only need higher capacity scanning for a short time we mutually decided that a rental of an mfp for a few months was the most cost effective solution. Once they are done with the back filing they can acquire a new device that is sized for their go forward needs.
Seemed like the perfect solution so we worked out a price settled the contract and away we go.
Not quite so smooth. So what happened?
We delivered the mfp and went to hook it up. Woops, they said they had a network drop and fax line in place but they weren't there. We referred them to a wiring specialist and got that corrected.
Ready to go now!
We headed in again and started the setup only to find out their three workstations were two Vista Home OS and one Windows 7 Home OS running in a workgroup. Not a problem for setting up print but it became a major problem for scan.
The device we chose for the rental was focused around getting a good robust document feeder for scanning. It works with an SMB network scanning protocol that requires network authentication to communicate. But a workgroup with home OS systems does not support authentication like this so the SMB scanning doesn't work.
Back to the drawing board...
New solution is a smaller device with not quite as solid a document feeder but that supports USB based scanning for a direct connection to the computer and no need for authentication. The chosen device still supports ethernet connection for printing from the three workstations and we have a workable although not totally ideal solution.
The moral of the story?
When building even a small workflow solution it is every component of the solution that has to be able to work together to make a succesful install.

Saving money in a business environment by buying devices with home focused operating systems may not be a viable decision. They limit future options and can seriously reduce your ability to connect common business focused equipment.

Having multiple ways to attack a problem can give you flexibility to get the result you want, although not always in the manner in which you expected.

Persist. Creative people can find a way to accomplish the task if they are reasonable and work together.
Inspite of the challenges in working through this event I am thankful that I was working with a client who was reasonable, prepared to listen to our input and who worked with us to find a way to get him what he needed. Someone who was not prepared to help find a solution would not have obtained as successful an outcome.
Have you had workflows affected by unanticipated impediments? Is it sensible to limit your options to save small amounts when you chose your technology? How would you have attacked this challenge?
Lee K
Photo credit:  Wikimedia Commons Public Domain