One of our account consultants told me a story today which really hit home.
Briefly here are the details.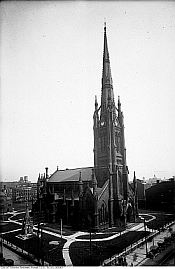 He went to a client in Hamilton to review their service agreement on their colour multifunction printer (mfp) and discuss the current operation. One of the things that we knew was that their colour volume on the device had dropped by about 90% over the past year and we were presuming it was cost related. This client is a church and we know that churches are cost sensitive, but they had made a decision to acquire colour so we figured they must have a need to use it.
In discussing the situation with the client the answer to the question on why the big drop was as predicted, they had experienced such a high adoption of colour use the price was challenging their budget so they changed the parameters so only the secretary had access to colour. Of course since this was substantially less convenient to the volunteers who did a lot of the printing they just stayed with monochrome output even if they thought colour was a good idea.
The issue this raises is they now get less value out of their investment in colour and supporting the unit will become more challenging as the lack of colour income will put pressure on the ability to provide the good support levels we pride ourselves in delivering or in the long run their monochrome support costs will go up at a higher rate than normal.
After some discussion it was recommended they advise the users what the approximate cost of a colour page would be and encourage them to make a considered decision on whether the output they were producing warranted colour rather than just monochrome. Since the users are invested in the organization, (otherwise why would they be volunteering their efforts) it seems reasonable that involving them in the decision process with the right information to make a judgement will yield positive results.
The jury is out at this point on whether it will work but I suggest that you try it. Trust your users to decide whether they really need colour, they'll make the right decision for you without locking it down and making it a hard tool to access. Let me know if it works.
Have you locked colour down? What message does this give to your users? Is it the right message? If you give them the needed information would they make the right decision? Share your thoughts below.
Lee K