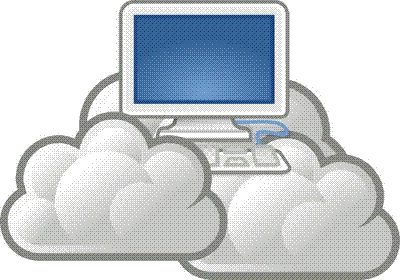 The hottest topic in IT network design seems to be Cloud Computing. So what is this? What is meant by cloud computing?
Here's a simple example of cloud computing. This blog is written on a platform of software and hosted in computer servers that are provided by a company called Hubspot. We pay a monthly subscription for the use of their software and for the hosting of our website and this blog on their computer servers.
The information and the tools used to create these blog articles on their system are accessed through a web browser. This is cloud computing in its simplest form.
There are many other ways that cloud computing can work:
You may house your servers in a data centre and operate software you buy from there.

You may run a thin client system where all of the processing is done on centralized computers and the workstation acts as a dumb terminal to provide the user interface.

You may host your Exchange, CRM or other specialized software usage on a service provided by a vendor and pay by the seat by the month on a subscription basis.

You may access online backup to store your computer backups into a backup system in a data centre.

You may use Office Docs from Google or Office 365 from Microsoft to provide your office software for word processing, spreadsheets and presentations.

You may use it to store your documents into a document management system like docUcapture.
Every one of these instances is a form of cloud computing. Each is a little different and meets a specific set of needs. The common component is that either software, hardware or a combination of both is accessed through an online connection to carry out your work.
One of the key constraints for cloud computing in Canada has been the relative high price of obtaining reliable, fast internet access in business parks and business locations. Using a cloud based system presumes access to fast and reliable internet otherwise the delays can affect your ability to do work. Each business must assess what is available at their location at what cost and this becomes a part of the cloud decision.
In a future post I will look at some of the parameters you can consider as you determine whether the cloud is where you should be.
Have you looked at cloud computing for your business? If so, what have you determined to be the most important components for you? Why would you not choose cloud?
Share your thoughts on cloud computing below....
Lee K
Photo Credit Wikimedia Commons: http://2.bp.blogspot.com/_5bGsvbWFupg/TOKfe89XMtI/AAAAAAAAAFg/6QQZNLhJwb0/s1600/500px-Cloud_computing_icon.svg.png