SentryFile Document Management has long been a superb solution for SMB and departmental clients who are looking for a way to easily and cost effectively manage their electronic and paper documents.
With the release of the new work flow tool for the Enterprise Edition of SentryFile the game changes substantially. Now the process of handling documents both for input and for internal routing changes.
SentryFile Enterprise Edition features advanced work flow capabilities that allow you to route documents throughout your organization while maintaining the ability to track their progress and subscribe to email notifications on their status. Each work flow consists of two components:
One or more "triggers" to cause a document to be entered into a workflow

One or more "steps" that the document is routed through to be processed
Take a look at this video which provides an introduction to the way work flow works...and how it is implemented in SentryFile Document Management.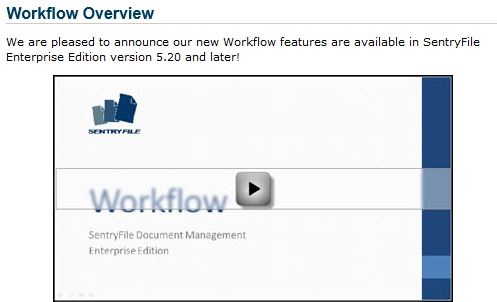 Hear one of the developers from SentryFile Workflow describe how you can implement an Expense Approval Process using the new tools in Enterprise Edition.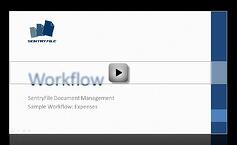 The best news for current licensed users of SentryFile Document Management Enterprise Edition is this new powerful capability is provided as a no cost upgrade in the just released Version 5.20.....that is right....NO COST. Nada, nothing, zero dollars...Wow!
My mind is already awash in ideas of how I can work with clients, some who have been running this software for many years, to futher improve their filing and now operating systems by building work flows for all kinds of processes.
How about a lead process for sales leads coming from other employees in your company, automatically routed?

How about purchase order approvals routed to approving authorities based upon value of PO?

How about vacation request forms routed for approval, then to payroll for processing, all while the forms are securely stored?

How about loan application forms routed to the appropriate approvers while the reference documents are securely stored in the DM system?
Just four areas of business I can easily think of.
So what about clients without the SentryFile Enterprise Edition?
They will need to upgrade from the Small Business or the Corporate Edition to obtain the benefits of the work flow Module, however the capabilities will easily justify the investment to do this.
I will revisit the details of SentryFile Document Management Workflow in the future as we work through some internal (yes we are an enterprise client ourselves) and some external work flow implementations. In the meantime, Slam Dunk to the SentryFile Development Team for a new awesome tool for our clients.
Would you like to automate those niggling document routing tasks that take time and energy? Would you like to do so cost effectively while securing your documents for disaster recovery? Do you have well defined manual workflows you would like to automate?
Share your experience with building workflows below...
Lee K