Kyocera recently released a simple app that supports Android and Mac IOs tablets and smart phones for direct print and scanning from Kyocera connected mfp printers.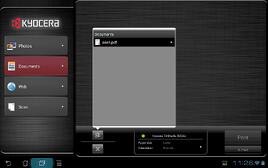 You can access the app from the respective app stores and download it to you device free. Once you have it installed you are able to connect to HyPAS enabled print devices from Kyocera that are on the network. Your device must connect wirelessly to the network to locate the mfp devices which are supported. From this point you simply pick your preferred print or scan device and the app handles the process for you.
The beauty of the Kyocera Mobile Print app is its simplicity in use and the feature selections it provides for control of the mfp capabilities. I was really impressed with how easy it was to scan a document to my Android tablet using the Mobile Print app.
Check out the app in operation in this video:
With more and more smart phone and tablets being used in the workplace the Kyocera Mobile Print app is a very useful tool that can facilitate the transfer of documents from the communication device to print and from paper format to use on the device. This can be a very useful tool for sales persons and others who have need to create portability or who work from multiple offices.
The only limitation of the tool is the need for it to connect to he network where the print device is established using a WIFI connection. For most users this will not be a serious impediment but it needs to be taken into account if you plan on using this app.
How do you print from your mobile device? Is scanning to your device an idea you could use? What else should new multifunction devices provide to support a more mobile workforce?
Share your thoughts....
Lee K