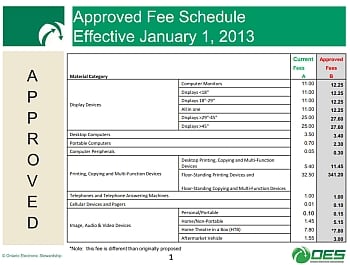 Happy New Year floor model MFP buyers in Ontario Canada. You now get to spend ten times as much for the environmental fees (WEEE fees) for your new acquisition come Jan 1 2013.
After a recent review of the fees charged for a range of electronic products under the Ontario Electronic Stewardship Program the new 2013 schedule has been published. While fees have gone up for most products the real surprise is the fee for floor model printers and MFP printers which increase from the current $32.50 per unit to $341.20 per unit. This is clearly the most significant increase in the new schedule and one which is now going to make the OES fee (commonly called the WEEE fee) an important consideration for anyone purchasing these units.
Caution: Read Your Quote Carefully
I my opinion, it is going to lead to confusion when buyers are trying to compare quotations on similar units from differing vendors. Unfortunately, there is no standardization on how these fees are shown.
Some vendors may choose to incorporate the fees in the base quote, just to make things simple. This may be especially true in the case of a lease quote since the fee could become a part of the lease plan.
Others may just ignore it and then deal with it once they have won the deal adding it to a closing invoice for setup and delivery perhaps.
Others may cover it under and exclusion clause which says that applicable taxes and fees are extra.
In pursuing more information on the revised schedule and discussing the WEEE fees with some MFP hardware vendors I learned that in at least one case they had just ignored these fees in the past (they seemed small overall) and left it to the retailer (dealer) and end user to deal with the system. I don't think this process is going to work any longer as there is too much money now at stake for the Ontario Electronic Stewardship Program to let any vendor not deal with the fee.
There are a couple of other categories of fees that also have had a significant percentage increase in rates however the actuall fee amounts in these cases are quite small. Desktop printing, copying and mfp devices see an increase of 111% jumping to $11.45 from $5.40. Cell phones and pagers get a tenfold increase as well going from 1 cent per unit to 10 cents per unit. These levels however have little impact on the device cost.
The justification for the big increase in the floor standing mfp devices is covered in a report showing the rate development methodology. As I read this report it appears that over the three years of the WEEE program a much higher volume of mfp waste has been diverted by the program than was originally anticipated. I think this is good since it is product that may have been going to landfill or offshore and is now being processed for recycling. Unfortunately, the large volume has increased the rates going forward.
One anomaly I see in the rates is the difference between a large display (TV, display signage) and the floor mfp. The highest rate you will pay for a display over 45" is only $27.60 (up from $25.00). Just think you could buy one of the new 80" TVs and only pay $27.60. Doesn't seem to equate, but that is the approved rate.
As we have written before the principal behind the OES is solid. Since consumers and businesses have paid for the cost of recycling at the time of acquisition, there are no disposal costs at the time that they no longer will use the products. They just need to work with an approved ewaste disposal company and they will be able to have their product put into the recycling stream at no additional expense. It also means that the dangerous components of electronic devices will not be getting into landfills and other disposal locations.
Come January 1 2013 purchasers of floor model mfp printers, copiers and printing devices will need to take the new higher fee into account and be cautious on any quotations that do not spell out how it is being handled to avoid any surprises. On a multiple device contract the charges can add up to a significant amount so attention to the details is well warranted. If you are considering a new device early in 2013 you might want to consider moving your purchase into December 2012 to avoid the increase.
What has been your experience with electronics recycling? Does the OES system make sense to you?
Comments are welcomed below....
Lee K