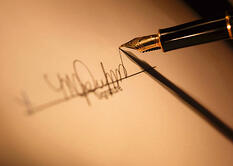 A colleague of mine from New Jersey writes a blog for our industry which covers the ins and outs of the office equipment business, (printers, mfps, copiers etc.). Art recently published a blog for his readers in his regular mfp blog. His target for the article was the sales people in the office equipment industry to remind them why leasing makes sense for their customers.
Here's Art's post repositioned to discuss this with clients rather than sales people. Thanks Art for reminding us of why most office equipment is obtained using lease agreements.
Leasing provides the use of the equipment for an agreed upon monthly payment for a fixed duration.

There are tax benefits for an operating lease as the full value of the payment is deductible as a business expense. Be careful with lease to own arrangements as it may be determined that this is a capital lease which could require capital cost allowance to be used to write off the lease cost. This can complicate the amount of the write off. There are lease forms which avoid this so understand what lease is being offered to you before you sign.

Leases provide flexibility in payment terms as the amount of monthly (or quarterly) can be set using varied terms to match budget targets.

Leases can include all of the costs of the device(s) including shipping, software, installation, training and WEEE fees in Ontario.

Using a lease can conserve your capital for other investments which add direct value such as personnel, inventory or marketing.

Fixed payments in the lease are predictable and easy to plan.

Fixed payments lock in the cost for the duration of the time you will use the equipment.

Your credit for other needs is not affected by the lease leaving more access to capital for other needs.

Since technology is constantly being changed using shorter term leases can offer the ability to upgrade more quickly. This is especially important with computer equipment.

Lease terms can be longer if needed. Depending upon the product being leased you can lease for up to 66 months. This is usually much longer than a bank will lend for an equipment loan.

At the end of a lease you can often have a purchase or renewal option. This gives you flexibility to replace equipment, or extend your use for a longer period on new terms.

Insurance for your leased products can be provided through your business operations coverage. Providing the leasing company with a notice of insurance and showing them as a named insured will protect you from insurance fees charged by the leasing company. Art points out one feature which appears to be the case in the US where using the leasing company's payment may be a good idea in flood prone areas since many insurance company policies eliminate flood as an insured cause. Not sure about this in Canada, but if you are in an area subject to flooding it might be worth checking out.

Service: Should you include it in a lease? My common preference is to say no. Guessing at the level of service needed on an MFP and locking it into the term of a lease can be a challenge. You could end up paying for volume you don't need. A short term lease can make a better case for going inclusive as the interest cost on the support will not be as much, but I would avoid doing support inclusive leases on longer term deals.

Your return on your investment in office equipment is based upon how you use the equipment and how it best matches your needs. Looking at all of the costs of the device, including lease cost, support costs, toner if extra, other peripheral costs will give you a truer handle on what your print environment is costing.
There is a movement in larger organizations to enter into agreements with one vendor who takes ownership for the complete operation of the print environment. This managed print focus can offer the potential for print users to control their hard and soft costs more effectively and easily. Using properly designed leasing structures to manage the capital part of these agreements can work well for both parties.
Do you buy or lease your print equipment? What term is most comfortable for you?
Lee K