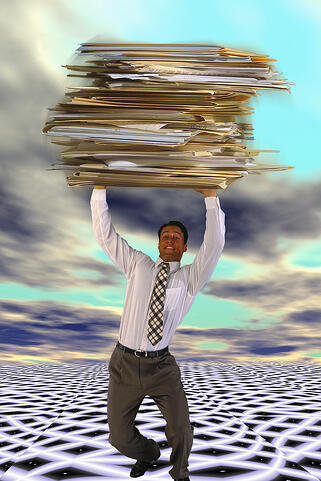 There are hundreds of different document management systems that you can choose from when you decide to organize your filing into a structured system. We often get clients asking us how they decide which one works for them without going crazy and taking way too much time researching to be worth the effort?
Here's a brief guide to the various types of document management systems that are out there. I will categorize them more by how they are setup than by the specifics of each one as that would be almost impossible. There are some basic principles that you might want to consider as well and you can review some of those in 9 Red Flags to Avoid In Document Management a companion white paper.
Client Server Systems. This type of DM is based upon a system where a server based software package is linked to a client software package which resides on each users workstation. The principal behind this type of system is the server software does the heavy lifting like data base searches, managing capture systems, file conversions from scanned paper and security management. The client software handles the user interface, document viewing and some of the data processes. These types of systems are often found in legacy document management packages since the computing horsepower to deal with large document sizes was not generally available a few years ago.

Web Based Systems. These types of systems use a web management software to house the document management system. Many of them use Microsoft IIS (Internet Information Services), which is a capability found in most versions of Microsoft server software. This means that the underlying components of the document management system are provided by the IIS server and the interface and data management structure are provided by the document management package. Using a browser, commonly Internet Explorer to access the web based DM can make it easier to manage the users and can reduce the overhead of the IT system.

Cloud Based Systems. Much more common in recent years, although around for some time, cloud based document management systems provide the access to the document management tools using the internet to run the software on a SaaS (software as a service) model. One such platform is docUcapture which has been in operation for over six years. The big advantage of these systems is that there is no need to buy the IT infrastructure or software. You simply rent the use of the DM tools from the supplier on a subscription basis. It is often a way to try out DM, see if it fits for your business and then you can decide in the future if you wish to move to an inhouse solution. The per user cost of this model can be higher over time, although there can be substantial savings on IT resources and infrastructure costs.
Licensing Models
One of the key concerns with acquiring document management capabilities is the licensing models of the software systems involved. Traditional DM platforms have been known to be quite costly to acquire and to maintain. This is changing and there are platforms that offer great capabilities which are affordable for almost any sized business.
Single user systems. Just as the title says these are designed as limited functionality software packages (often in the low hundreds of dollars) which may even come bundled with some scanners. They permit a structured filing system to be developed for a single user while offering very low cost.

Seat licensed systems. Traditional client server systems usually use a combination of modular pricing for the basic functions of the document management system combined with a per user seat license for each workstation or user which will connect to the server system. These licensing fees can be as high as $1500 per user in some systems and can lead to substantial investment if the organization needing access has a large number of users.

Concurrent seat licensing. A modification of the seat licensing model provides for the seat license components to be shared among multiple users depending upon how many are connected to the server at any one time. This model can provide for a lower acquisition cost if many of the users are not constantly needing to be accessing the DM. If the user needs are one to one (every user needs access most of the time) concurrent licensing could actually be more costly than seat licensing since at times vendors will charge a higher per seat price for concurrent seats.

Server licensing. A less common licensing model provides for licenses that are based upon servers being deployed. With this model there is no license for the users who connect to the server, but only for the software on the server. This model can lead to substantially lower costs depending upon the pricing for the server components.
Support costs
A final component to consider is the cost of ongoing support. Traditional DM packages have seen support being set at twenty percent of the original purchase cost for the software for each year. This can lead to substantial support costs however in many cases this fee will include ongoing upgrades as well as bug patches etc. One package we support, File 360, has traditionally been licensed this way with the support and annual operating license bundled in this fee. We have clients who have undergone over 5 levels of major upgrades over the years and the lack of cost for upgrades makes the support very worthwhile.
Other pricing models are support only pricing with no upgrades included or modifications of this where clients are provided a discount on upgrades while paying a lower support rate.
Finally, there are options for some products where no support payment is required although it is usually offered as an option. My experience has been that every DM package will need some sort of support and going on a pay as you go basis does not lead to the best overall experience since upgrades, patches etc. may not get deployed if a plan is not in place.
Looking at all of the components of a system is important in understanding your total cost of acquisition.
Implementing a DM system
A small DM system may be able to be researched and acquired by someone who is fairly technology alert and who understands their workflows and needs well. In my 16 years working on these systems this has been a real exception however, and I would strongly recommend that discussions be held with a vendor (or a couple) who has a record and reputation for implementing these systems.
As I said at the outset the options are substantial and trying to check out the whole market will lead to massive time wasting and frustration. Talking to a couple of vendors who can help lead you through the basic questions and who will take the time to learn about your business before they try to sell you something will be worthwhile.
If you wish to develop detailed workflow structures where task routing, document flows and designs are going to be part of the system, you must be prepared to pay for the expertise to do this. For a more detailed workflow it can take many manhours to sort through the systems needed and the possibilities that the package can provide. I'll address this in more detail in a future article but the caution is offered for those looking for a more complex solution.
Document management is an important tool. As one of our clients says, "it started as a simple archive and has grown to be an integral part of our systems." Finding a suitable tool for your business to match your needs is a worthwhile and rewarding excercise.
Have you considered Document Management? Are you using it and happy? Using it and unhappy?
Lee K