In the next few days and all of next week we are going to continue to be inundated with ads for all kinds of Black Friday related promotions, offers and specials. In addition the popular media will be telling stories of all kinds of things people are doing to be sure they get to take advantage of the Black Friday deals whether it is camping out to be first in line, working as a team to make sure they get to all of their preferred sales or simply stories about how important this period is to the success of retailers.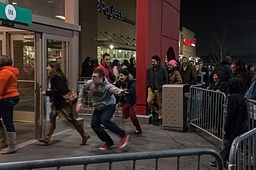 Of course in Canada Black Friday is not as key to everyone's lives as it is in the US since the sales are not as giant, the weekend is not always the biggest sales day of the retail year and the focus is a little less hectic since we have already celebrated our Thanksgiving and our retailers usually save their best for Boxing Day.
Then there is Cyber Monday next week which kicks off the primary online sales period designed to match Black Friday and extend the frenzy into the online sales fields.
Commercial markets don't fully mimic retail
For businesses focused on the commercial market and who sell primarily to other businesses Black Friday is not quite the same. Since most commercial business is less emotionally driven than consumer sales the excitement of a Black Friday is pretty hard to build and is hard to replicate across varied industries.
There are however periods in every business type where opportunities can exist both for sellers and for purchasers to create something with a part of the energy that seems to fill the Black Friday period.
Think of Open Houses, Anniversary Sales, Industry Workshops, Trade Shows as some of the commercially supported Black Friday proxies designed to bring buyers and sellers together in ways to make deals happen.
Characteristics
To become a Black Friday proxy the activity needs to exhibit some specific characteristics:
Offer enough special value to get people talking about it
Be time sensitive, with only a short duration to take up the promo
Offer limited range of special promotion items or services
Be publicly promoted at least to a set target potential group of purchasers
Provide unique value that is not going to be replicated soon again
Focus on rapid deployment and as close to instant return as possible.
While this list may not be totally exhaustive of the types of promotionaly focused activities and products which can create the excitement needed they do illustrate some of the reasons why an event built on a Black Friday formula might target an commercial market.
Every business needs to be able to find a way to command its customers and potential customers attention in a targeted and exciting way. Perhaps it could be simply a day where a specific supplier offers through a dealership a range of unique pricing benefits only available through that dealer and only for a very short duration of time.
Maybe it is an Open House with a selected group of targeted discounts available from a range of suppliers for those who attend the Open House and redeemable within a short time frame.
Taking the time to think about how you could build excitement into your business which could engender the kind of committed response that consumers seem to offer on Black Friday is an effort worth considering. Start thinking on how you might build your own Black Friday sales event...
Lee K
Photo Credit: By Powhusku from Laramie, WY, USA (Black Friday) [CC BY-SA 2.0 (http://creativecommons.org/licenses/by-sa/2.0)], via Wikimedia Commons