A major Labour Market Study looking at the Canadian IT landscape from 2015 to 2019 says that there is a need for more IT talent over the next four years in Canada.
"cumulative hiring requirements in Canada for ICT talent are expected to be 182,000 by 2019."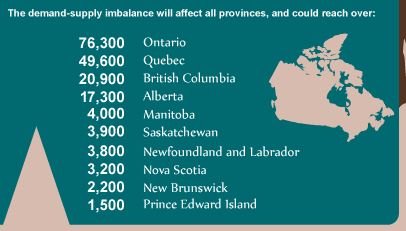 For the potential people to be employed this is great news since it indicates that Canada will remain a highly qualified environment for IT professionals. Of course for the companies who are going to need these people the competition of the best skilled and highest calibre can become fierce.
This clearly indicates that keep ahead of the curve on your IT needs is going to be as important or even more so than in the past since the people to ramp you up if you get behind may not be as easy to find as you might think.
One of the key findings of the study is a continued growth of demand for technically skilled persons who also have business skills to help with the interpersonal management and critical thinking on the bigger picture. "Employers' inclination to find the right blend of technical and business skills makes the demand-supply imbalance even more challenging." This comment indicates that there are challenges ahead in this area and again this is something that companies will need to plan for and protect their best people to ensure success.
Ontario is shown as the province with the most potential demand, 76,300 persons, with the bulk of these in the broader GTA. Retirements, skills mismatches, and simple employment growth are credited with the pressures for the demand.
Both women and youth are seen to be important demographic segments which need to be encouraged and attracted to the field if the target levels of employment are to be reached. One of the potential solutions is always to look to a global market to recruit new workers but with the wide levels of technological activity world wide Canada can not expect to fill its needs from this source alone.
If IT is your interest or your need then working to fill these levels of placements over the next few years is going to be an important part of your plan.
Lee K