As we have all experienced the retail environment is rapidly changing. At one time the physical retail store was the core of every retailer's business but for many in today's environment it is only one component of a retail system.
For some retailers like Amazon there is no physical presence at all. Their whole world is online as they depend on a wind range of retailers to supply the products that are advertised on their site. Of course this co-operative model has been a relatively new creation but given the breadth of the offerings it permits such conglomerators to offer it has a pretty compelling potential for both the overall entity and the broad range of supplying partners.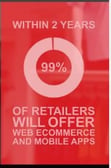 Zebra Technologies recently released a short video in which they describe how the integrated retail entity can provide a better and more satisfying experience to customers. Designed to combine instore, online and mobile offerings into one seamless whole their One Store concept has some interesting components and shows how some retailers are starting to look at this customer centric kind of model.
As we have previously mentioned, Canadian retailers are starting to build much better connections between their offline and online operations. Some are working hard to integrate the two offering the ability for the physical premises to become a pick up point for online purchases (saving on delivery charges) or as a drop off point for returns (saving on shipping for returning an unwanted purchase). Both of these practices offer a better customer experience and remove a point of potential hesitation for a purchaser.
Of course the one of the key features of any integration is the ability for a potential customer to determine inventory availability at a nearby store from an online tool. The ability to place a reserve on that inventory for a period of time to enable the customer to access the physical premise is an even better tool which some retailers are now offering.
One of the challenges for both parties is the integration between the online and the offline product offerings as it is not always possible to every online offering to be available in every offline store. Some of the services permitting shipping to the closest store for pick up are designed to remove this potential conflict.
As Zebra shows in their video the world of customer interaction is continuing to change rapidly and building a response to these changes and expectations can be a significant advantage. Of course similar changes are occurring in other fields other than retail as other commercial activities shift as well. Looking at these system changes in your field of endeavour is something that every business needs to do otherwise it is possible that you will see deals passing you by sometimes without even knowing the potential opportunity existed.
Lee K
Video credit: Business Solutions - Photo Credit: Zebra Technologies