What is the difference? Answer: Who does the work.
It happens, recently despite our best efforts we lost the battle to continue to service a long standing client and through a combination of factors the account choose Brand X over our solution. That's business, you give it your all, but sometimes it's not enough to convince them of the merits of your solution.
It left us wondering if they fully realized the impact of their decision in other ways and causes us to think about the differences in approach to the issues associated with managing and running MFP printers.
Who does the work?
Service is normally defined as work required due to an error condition or unexpected defect occurring.
Maintenance is often some task performed in a scheduled or recommended way to prevent unneeded service and reduce downtime.
So far so good, but what if the devices weren't designed with the same design philosophy?
This is the case in the situation we referenced in the beginning. The Kyocera brand we represent is created with long life ECOSYS ceramic components, highly durable designed to go 600,000 pages between service intervals, before requiring replacement of their maintenance components. In many cases this lasts the life of the machine.
While Brand X. is designed around the use of SMart maintenance items replaceable at much shorter intervals. These are customer replaceable components that are promoted by the vendor that the customer can replace themselves, and designed to 'reduce service calls' and plays on the fear of waiting for service personnel to show up and arrive when service is needed.
How these compare.
Mis-quoting Shakespeare here slightly: What's in a name? That which we call a rose by any other name wouldn't smell as sweet.
The famous quote from Shakespeare slightly modified…but what if Will had it wrong and there was a thorny side to this?
…and you got stuck doing all the work. Here's How:
A typical scenario:
You enter into an equipment contract for 5 years. You produce on average of 10,000 colour copies a month. How many maintenance visits will there be with the Kyocera vs. Brand X?
On the Kyocera side it's pretty easy: One.
Actually it could be Zero. The maintenance kit is only necessary if you exceed the 600,000 page count in the 5 years, or assuming you decide to keep your machine and continue running it longer than the 5 years. Therefore one maintenance visit would be needed and this is performed by us as the servicing partner not you and we show up within about 2 hrs. If you return or refresh the equipment before reaching 600K then no maintenance items need be installed. If you do then there is a 2,000,000 page warranty. That's the long life ECOSYS concept.
Now what about Brand X. How many times will you perform maintenance visits with them?
Answer 28 times! How can this be? Its in the design.
5 for swapping Black drums (120K X 5 = 600K),
5.7 Colour Drums used (every 105k) X 3 Colour Drum Sets (Cyan, Magenta, Yellow) = 17 actions,
3.75 Transfer belt cleaners (every 160K) = 3 more actions,
plus a further 3 actions to swap the Second Bias Transfer Roll whatever that is every 200K
…that's a grand total of 28 maintenance actions. These are all to be performed by YOU the end user.
Of course all of these interruptions are plus the associated end user aggravation, IT Help desk alerts, business interruptions, and associated downtime and many hours spent for all for that maintenance you will have to perform, and we haven't even taken into account the negative environmental and sustainable impacts of what happens when all of these Brand X. used maintenance parts go into the landfill to rot for the next several 100 years.
PS don't forget to manually reset the Supply Counter each time or the machine will continue to issue alerts at you, your IT desk and your users.
But wait if you act now we'll throw in some extra bonus maintenance tasks for you! You will note there is a Waste Toner Container swap out needed at every 44,000 pgs. This adds another 13 actions for you (or worse for your IT Dept or other personnel), over the life of the 600K contract duration for a grand total of 41 incidents(!)
To be fair you will have to also swap the waste toner container on your Kyocera printer as well but this is pretty easy, and Kyocera has even won an award for re-using the empty black toner cartridge as the waste toner bottle - see Buyers Lab award here, so every time you swap out the black toner you will also be updating the waste toner in the same visit…that's pretty simple and convenient!
Cumulative Impacts for fleets
IT busy work vs. meaningful work: printer maintenance is not a good use of IT time. It is a component of activity that most IT departments manage reluctantly. IT should be focused on activities that will improve and streamline business processes for their organization and enhance the bottom line.
Brand X. is correct on one count - it is sustainable: especially in the amount of busy work you or your IT department will be engaged in to keep up to the rigorous maintenance schedules of your new equipment.
Now what if you had a fleet of these? In the case of the client we knew, there were over 40 devices being replaced…let's do the math on that:
40 devices X 41 maintenance visits each = that's 1,640 maintenance actions required over the 5 year lifecycle of the fleet! This is starting to sound pretty service intensive, isn't it? Brand X. calls this SMart Technology, it would appear it is a smart choice – at least for them to reduce their service footprint into your account. And the law of averages says these visits won't be conveniently spaced out; they may come at inopportune moments when you are trying to get work done or worse they will cascade one after another and pile up as each and every machine hits the volumes that will trigger more and more maintenance cycles for your enjoyment.
Last thought, where does all this sustainable waste go?? Answer Landfill!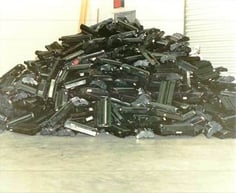 So we have covered maintenance, what about actual service?
Since you've done all the extra work to cover off all of this maintenance, what will the vendor be doing for you on actual service visits? These are the items that Brand X says do require a service technician to visit to replace them such as the fuser assembly. They will need to be there every 150,000 pgs or at least 4 times, about every 15 months.
The Kyocera fuser is rated to 600K meaning it is possible that no service visits would be required for this function.
Other service visits from any vendor may be needed for transfer belt swaps, plus service visits for any mechanical faults and more typical maintenance such as paper jams, doc feeder problems, skewing, cleaning, image quality issues etc. etc. These are usually covered in the per page image costs charged by the vendors.
Maintenance item tasks detailed above exclude replacing toners, paper and staples which are a whole other category that could be lumped into the ongoing upkeep and maintenance visits required to keep your machine up and running and not covered here.
Cost
For competitive reasons we are not able to specifically address the costs quoted by the two vendors, ourselves or Brand X but the differential was not enough to offset the substantially higher level of self management that Brand X's product required.
Maintenance or service?
How much maintenance is your current vendor forcing you to do? How much time is your staff spending on 'make busy' service and maintenance tasks? Are you ready to consider a better way?
Ian L